If you rent, you'll know all too well how thoughtful you have to be when styling your space. Painting walls and using power tools to add decorative touches are essentially off-limits. You're basically working with what's already there and that can prove tricky.
No living room is complete without a coffee table. It can help define your space and is home to your fave coffee mug. Still, it's an easy spot for clutter to gather. Often Saturday night's lipstick, an empty can of kombucha, and a pack of cat treats all show up uninvited. Guilty as charged.
As much as these little flourishes may say something about you, once you get rid of the crap, is your coffee table actually styled or just super plain?
As British interior designer Kit Kemp suggests, styling your coffee table will not just add interest to said coffee table, but it can impact your entire space.
"Coffee tables can be the starting point and focus when designing a room," says Kemp. So if clutter or the latter scene sounds the most familiar, my friends you are missing out on a fine opportunity to add flair with little to no effort.
Where should you start when decorating your coffee table?
First things first, get rid of trash and clutter. Especially when your coffee table is in a small space. Then you can start designing it to your liking and in a way that will give the illusion of a little more room. "I usually start with the larger items, such as the books and style items on, or around the focal point in odd numbers," says Dani Sandels, interior stylist of @danisdomain. Avoiding pairs will give an effortlessly good-looking finish rather than an overworked display. "I try and leave two-thirds of the coffee table clear," she adds.
How you style a coffee table is also very dependent on your surroundings, whether you live solo, have roommates, or have a home full of pets. Style editor of Real Homes Anna Morley says that whatever your setup may be and whatever the size of your coffee table, you can get started to create a stylish display in just a few simple steps:
Pick a theme: color, texture, or material.
Think of your tabletop as sections: Divide into four if you have a round table and three if it's rectangular and place objects into these areas — be sure to leave a section or two empty.
Be consistent: Ensure items feel balanced with one another and be consistent with sizing.
What items always belong on a coffee table?
A cute book, unique coaster, and candle always seem to feature on my coffee table. It really depends on how that space works for you, but the key to a styled finish is to keep it simple and clear from clutter.
"I usually have large home decor or travel books on ours, a vase of fresh or dried flowers — or foliage — and some candles," says Sandels.
Morley lists some of her favorite coffee table-scaping items, too: "A tray, books, candles, pretty dishes, vases, cordless table lamp, small plant pot, flowers, favorite crystals, or dishes with smaller items in."
Kemp, who's also the co-owner and design director of Firmdale Hotels (opens in new tab), is renowned for her unique approach to displaying art. Even in elevated hotels they use the same power of three trick for stand-out results. "The arrangement of the candles, flowers, and books in The Oak Leaf Suite at Ham Yard Hotel illustrate how using three objects of varying heights can add interest to our versatile five-plank coffee table."
So if you have a ton of items that you could add to your coffee table, be choosy but don't be scared of experimenting. Finding the right balance is all part of the fun. On that note, here are a few more hot tips on how to style your coffee table successfully.
1. Add decorative layers
Morley notes that by starting with larger items and layering around them, there will be more opportunities to add color and interest. "For example, a tray or book could become a platform for other pieces to elevate the display and play with the levels," she says.
2. Invest in color
Whether neutrals or neons are your go-to hues, your coffee table is a great opportunity to add more pops of color via candle sticks, vases, and even book colors. Explore your options and aim to pick up some of the tones present in your surrounding space for a cohesive finish.
3. Let books set the tone
Much like when styling shelves, the books you choose to display can bring a playful touch of your personality to the room. Whether it's your favorite manga, a photo book, or cookbook, let it spark conversation with friends and invite pals to pick it up when you're getting the coffee or on cocktail duty.
4. Favor curves
Choose architectural objects for an elevated surface. Be it ceramic pots, rounded vases, or even more bulbous florals to give more depth and a rounded finish, especially as some tables are super angular. If you rent, you may not have the option of swapping it out, and you'll want some curves to simply soften up your display.
5. Don't overlook the rug underneath
While it's not technically part of tablescaping your coffee table, don't overlook your area rug underneath. Morley's sheepskin rug brings all the Scandi vibes to her coffee table, enhancing that pampas grass perfectly. Even a light-colored jute rug can complement a white table, offsetting a stark finish.
Should you change your coffee table display?
Changing your coffee table based on the season is common, but the decision of how frequently you switch it up (if ever) is up to you.
"I am forever changing our display," says Sandels. "I don't always change all items, but usually rotate colorful accessories around our home to change a space and enjoy different pieces."
Since spring is synonymous with fresh flowers and bright colors, consider a lighter color palette and pastel pops at the start of the year. Come winter and in time for the holidays, your coffee table makes the ideal space to add a little more festive flair.
"The festive season is the perfect opportunity to have fun," says Kemp. "Using a bright seasonal floral bouquet always adds a 'wow' factor. Adding pinecones or dried fruit can create a joyful look for the festive season. They're an inexpensive way to add decoration and smell really beautiful."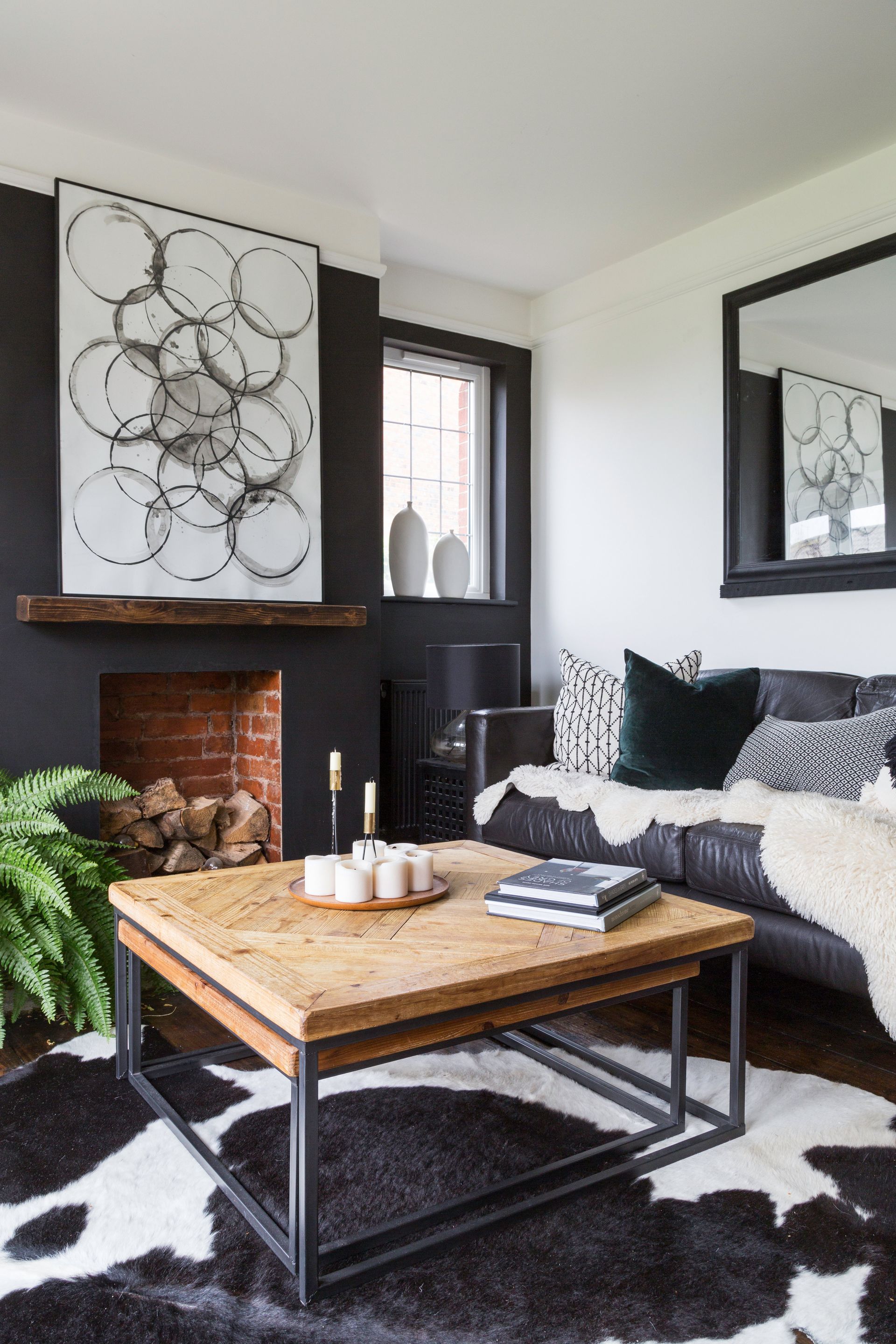 Dressing your coffee table is easily done in every type of space and doesn't need to cost the earth to be a stunning representation of your home and your style.