Looking for apartment decorating ideas, but tight on space and restricted to your landlord's criteria? When you're limited with what you can do in a snug setting or rented property, it can be tricky to envision a space that you would be happy with.
Whether you want to add some personally to an apartment living room, hallway entrance, or zone a kitchen in a open-plan area, blueprints, particularly in new homes, can be a little challenging. When space is tight it's important to choose small living room ideas that still suit the space and style you want to go for. Thankfully, there is lots you can do with even a shoebox of an apartment, condo or tiny flat. You just need to get a little creative...
Apartment decorating ideas to inspire your next project
1. Choose a multi-functional table design
Less is definitely more when it comes to a table design in your apartment. This is because a minimalist design makes a small space look larger.
In this gorgeous scheme by Cox and Cox, this beautiful Lotte dining table (opens in new tab) can double up as a study area or remote working space.
Because of the versatility in this design, you can accessorize this furniture as you see fit throughout the seasons. For example, in the warmer months, style with rattan accessories for a boho chic aesthetic, or line with a faux fur throw in the winter to add some warmth.
And, its pine wood washed design is bang on the Scandi-chic trend so explore Nordic design details too.
2. Or go for something lightweight and colorful instead
With the exception of a ground floor apartment, moving into a condo (especially if it doesn't have an elevator) can be a challenge.
So when shopping for furniture, you may factor the weight and shape of your decor into your purchase decision.
This modern and lightweight dining set from Danetti (opens in new tab) will ensure that you're not re-enacting 'that' infamous scene from Friends involving Chandler and Ross negotiating a heavy couch up several flights of stairs.
If space permits, they can be used to add color to gray kitchen ideas, making mealtimes fun for kids. The chairs can then be stacked to make space when not in use.
3. Add an industrial lighting design in a loft apartment
If you live in an apartment, the likelihood is that it's in an urban location in the city or suburbs. But rather than feel begrudged by these snug settings which typically lack greenery - embrace it with an edgy lighting idea.
Crafted from metal with three lamp holders, featuring an aged brass finish, this over table light from Iconic Lights (opens in new tab) will give your home an industrial, warehouse feel reminiscent of New York loft apartments and coffee shops.
As well as creating a trendy restaurant atmosphere at dinner time, this'll also look great as a kitchen island lighting idea to create some theater when cooking for family and guests.
4. Consider a slimline console idea for your hallway
Whether you're a first-time buyer who's just got on the property ladder, or a renter wanting a flexible hallway table idea - this piece of furniture will make an entrance.
Hallway furniture seldom gets the attention it deserves, with functionality often taking precedence over style. But this idea by Cox and Cox (opens in new tab) is a 'wheelly' good idea and allows you to move it single-handedly without straining your back.
As well as being a practical place to keep keys, post and banish bits and bobs, this fab furniture idea with three large drawers is a great way to introduce your interior personality to guests from the offset.
Style with your favorite mirror ideas to give the illusion of a large space, and also check your makeup or outfit before you head out.
5. Get guest ready with a sofa bed design
As well as adding a touch of luxury to your apartment, a statement velvet sofa oozes an Art Deco aesthetic. But if you're weighing up the idea of a new sofa or guest bed for sleepovers - why not invest in a 2-in-1 design?
The best sofa beds provide comfort, style and a space for a weekend stay for family and friends - without looking too out of place.
This coral colored daybed is perfect for a smaller living room or guest bedroom. Wherever you choose to place it, the golden legs and salmon pink shade add a touch of vintage glam to your space.
6. Zone a studio apartment with DIY divider design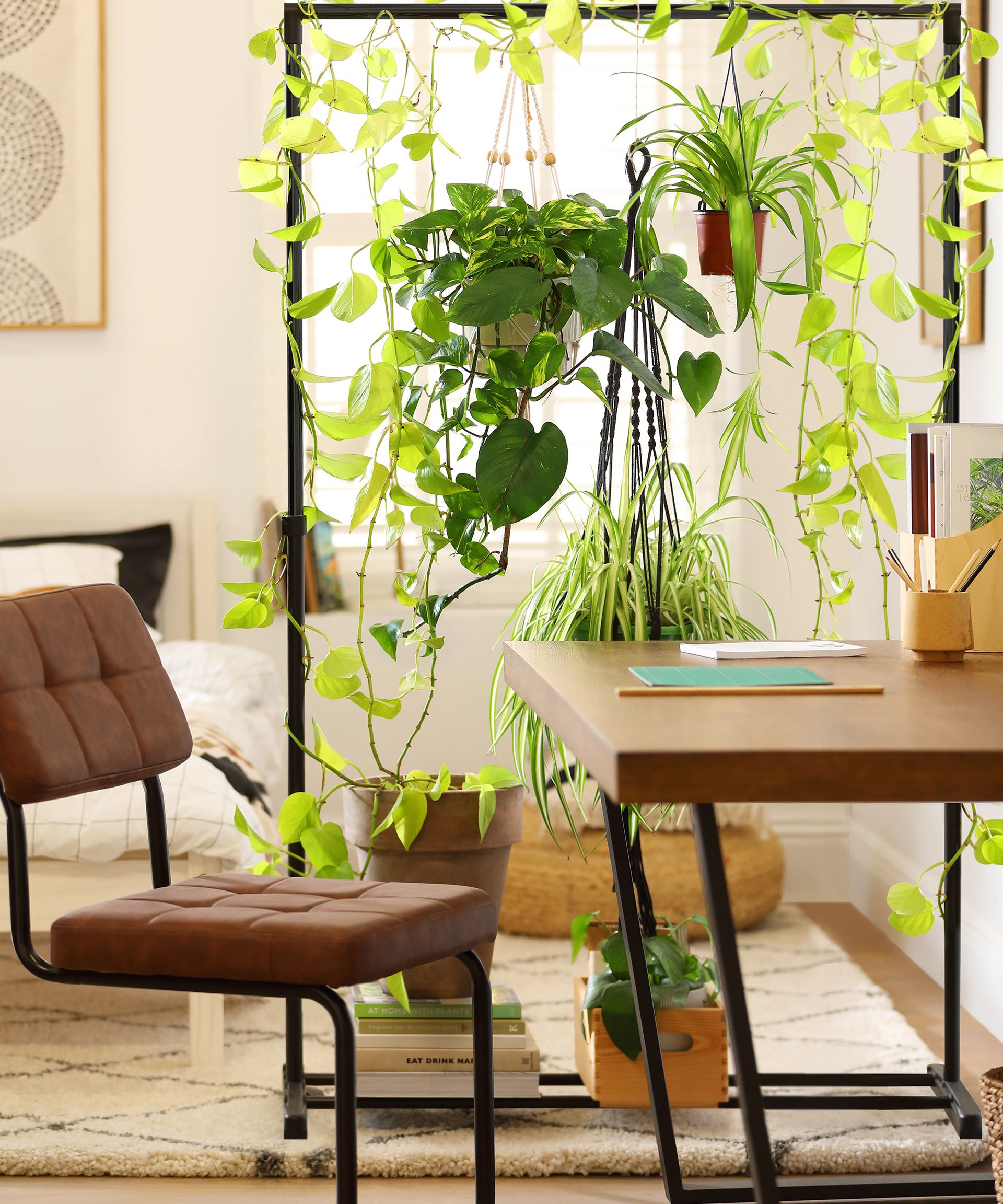 If your studio apartment feels like the kitchen, living room and bedroom ideas have all melted into one big room, Furniture and Choice (opens in new tab) have just the thing.
And the good news is that you'll only need a clothes rail, some plants, fishing wire and scissors to make it.
Put the clothes rail up according to the manufacturers instructions
Hang the plants on the rail using the plastic hangers that they came with
Alternatively, use macrame hangers
Wrap the largest trailing plant around the clothes rail, using fishing wire if necessary.
7. Or choose a partition that looks more permanent
If the moveble DIY plant divider doesn't cut the mustard in terms of size or style, this faux wall or partition by B&Q (opens in new tab) could be a viable option.
Dividing up the hallway and the living room, this modular room divider will help to establish different areas of the home.
What's more, if you have young kids who like to commission their next artwork on your walls, the treated surface allows everyday marks such as crayons and spilled drinks to be easily wiped off.
And if you haven't got a seat to sit down and put your shoes on, this wall is strong enough to provide you with some stability too.
8. Choose a runner rug to make an entrance
Condo apartment architecture can often lack character and charisma, so its often down to you as the occupier to inject your personality into this space.
The best hallway rugs can elongate your space and at the very least, stop kids from dragging in debris from the outside.

The perfect way to soften your interior design while enhancing your space with the addition of natural material, this natural runner in a hallway or along the edge of a room provides for a relaxed and bohemian chic look.
9. Renting or serial decorator? Opt for sticky solutions
New build apartment floors are often clad with uninspiring ideas that need a little love. So if you want to create the illusion of intricate tiled flooring, you'll need to get your hands dirty or find a smart solution.
This retro vinyl floor mat by Cuckooland (opens in new tab) can help you to achieving the same striking results without the hassle and commitment of conventional floor tiling. Once unraveled and flattened in place, it doesn't curl like a traditional rug design.
With a waterproof and anti-bacterial covering, is suited modern family living.So whether you want to add interest in the living room feature, use it as a kitchen flooring idea, join two rooms or revamp the dining room. It's completely up to you!
10. Allowed a pet? Add a retro bedding idea
Fur parents rejoice! For there are some great options out there to inject some fun into your apartment.

This cat condo from Wayfair (opens in new tab) combines the functions of a bedside cabinet and a cat condo which makes it a perfect place for your beloved fluffy ones to snuggle up next to you in the bedroom or sofa.
It also has a drawer that opens with two knobs for handy storage. You can enjoy watching your cat while it nestles in its very own TV cat house. Style with pet-friendly houseplants for a chic, green space for your mutt or moggy.
11. Create beachy vibes with bar stools and paneling
If you know your Piña Coladas from your Pisco sours, say cheers to a set of bar stools as your next apartment idea.
Slim and streamlined, a bar stool design can congregate around small kitchen ideas or used as a standalone seat for unexpected guests. Complemented with this white paneling idea, we're imagining ourselves on a tropical island in a bright bikini and topping up our tan.
Style this idea with lots of tropical fruit for on-hand drink garnishes and a natural kitchen wall decor idea.
12. Not got a breakfast bar? Buy a standalone fixture
If your apartment didn't come with an L-shaped kitchen design, and you don't want to remodel it - don't fret. There are still ways in which you can create the perfect breakfast bar setup.
Designed with a matte black colorway, this stylish bar table (opens in new tab) from Dunelm will bring an industrial look to any room of your apartment. Use it for entertaining or keep it out as a stunning piece of furniture for remote working.
Better still, pair this idea with exposed brick walls as shown for an intentionally industrial luxe look. This is one of the best accent wall ideas that will complement the furniture beautifully.
But for an interior cheat you can also turn to brick-style wallpaper.
'From halcyon farmhouse vibes to that sophisticated industrial loft look, brick wallpaper comes in a variety of design and color combinations, so there's bound to be the perfect print for you', says Alex Whitecroft, head of design at I Want Wallpaper (opens in new tab).
13. Add a touch of the Orient with embroidery
Feminine and delicate, embroidery can bring exotic charm to your bedroom design. And, while Broderie Anglaise is a French needlework technique that looks great in the summer, beautifully woven designs from South East Asia add a sensual feeling to your sleep space.
With a warm ocher foundation and pretty petal design, this velvet Oliver Bonas (opens in new tab) bed spread adds expensive and luxury vibes to your lair. The decorative fan is a statement that holds its place in the boudoir and makes you feel like a glam Geisha.
14. Or go for a statement headboard instead
Whether coupled up, or a single lady, if you're looking for women's bedroom ideas for your apartment, why not invest in a statement headboard?

This rattan design by Wayfair (opens in new tab) is woven with a bright sunburst design and adds a glowing touch of natural light and texture to your bedroom. It's also uber comfortable, ideal for sitting up against to enjoy a book or binging on a TV series before sleep. Weighing just 4kg (9lbs), it's also super lightweight for installing yourself.
15. Transform a bedroom space with a wallpaper design
If you want to create a beautiful and relaxing space to rest your head, it's time to turn to a wallpaper design. Unlike soft furnishings, side cabinets and wardrobes, this printed paper takes up no space at all.
This beautifully decorative Japanese Garden motif from Mindthegap (opens in new tab) is an idyllic apartment decorating idea for a city space. The zen, floral design is the perfect juxtaposition for a place based within a busy concrete jungle.
But, to avoid this busy pattern making you feel claustrophobic, assign its use to one or two walls only. Any more, and you'll feel trapped in what'll feel like a messy maze!
You can always add more flowers and Bonsai trees as you see fit. This is the perfect space for morning meditation and quiet thought.
16. Add fun to a bathroom with a shower curtain
To make your apartment idea feel more personal and homey, make your mark in the bathroom with a printed shower curtain, fresh towels, or a fluffy dressing gown.
From animal print, to flower power, monochrome or matchy-matchy, this cheap and affordable idea can transform your bath or shower.
17. Shop for lots of shelving ideas (you'll need it!)
As well as cabinetry design and big ticket storage solutions, you may also want to consider simple display options. So let's talk shelving ideas.
Typically associated with a flat length of wood fastened to a wall, the world of interiors has knocked this definition on its head and expanded it to include a whole array of design ideas. They are often inexpensive, plus they will save on precious floor space, too.
Nowadays, you can create an interior scheme around your 'shelfie' and add a luxury touch with brass brackets, glass panes, modular boxes and more. As a rustic apartment decorating idea, why not build your own shelf using reclaimed wood?
Out top tip is to choose something that's functional and flexible so you can move it around.
18. Be prepared for guests with a stylish wine rack
Whether you're having an apartment warming party or are a fully-fledged home owner who just likes having friends round – a wine rack is an essential for all social butterflies!
So whether you're a serious vinophile or just a wine quaffing enthusiast, every collection (no matter the size) deserves to be displayed beautifully.
This wine rack idea from Garden Trading (opens in new tab) is crafted from raw oak and designed to be wall mounted. Simply place each bottle on the angled wooden slat so it sits against the wall holding it firmly in place. It's twelve o' clock somewhere in the world right?
19. Consider luxury touches in an open-plan design
If you have a luxury penthouse apartment with more space than most, you may consider open-plan design.
This swoon-worthy marble countertop creates a focal point towards the upper end of the apartment, making the room feel bigger when you take in the breathtaking views of the city from this side of the room.
The recessed shelving idea adds a level of chic sophistication to the space where everything has been displayed with consideration and purpose.
We must not forget that stand-out chandelier too! Although it can be used as a romantic bedroom lighting idea, when installed in the living space, it adds opulence, especially when entertaining in the evening.
20. Get creative with your clothes storage
If you're a home owner, or decided to put down a deposit on an apartment that is not furnished - you'll need to sort out your own bedroom storage ideas.

But before you fork out on a wardrobe idea, why not assess alternate designs to organize your clothing. This DIY floating rail idea provides you will full visibility so you can see exactly which outfits you have to wear on any given day.
21. Choose a neutral carpet idea for your apartment
'In any interior scheme, neutral colors and the comforting texture of carpet brings a feeling of softness and calm.', says Jodie Hatton, residential design manager at Brintons (opens in new tab).
'These are best suited to rooms where you spend a lot of time, such as a bedroom or living room, where relaxing is key to creating a happy space.'
'Neutral colors offer mass appeal and are inoffensive no matter your taste.
'In fact, it is the case that a neutral interior will make any property attractive to a potential buyer, especially if you are decorating to put your property on the market.'
'Selecting a good quality carpet in this shade will inevitably work in your favor during a sale, instead of an old, or cheap carpet, as it helps make the home feel well designed and welcoming.'
22. Invest in mirrors and lighting for your hallway
'Although it's often an afterthought, the decoration of a hallway is incredibly important – after all, it's the entrance and first impression people get of your home.', says Chris Harvey, interior design expert at Stelrad (opens in new tab).
'You want your hallway to feel bright, airy and large, so I'd suggest a large mirror spanning almost all the way from floor to ceiling; this will give the illusion of high ceilings if placed in the correct position.
'I also think it's imperative to have lighting in your hallway – this can be anything from a chandelier to a retro lamp, depending on your personal style.
'Brightness is welcoming and when people enter your home you want them to feel a sense of welcome and calm.
'Finally, adding some greenery or color with a plant or fresh bouquet of flowers placed on a small table in the hallway will add charm and style to what could otherwise be a boring room'.
23. Create calm with a Japandi themed space
'Combining the content and cozy feel of Scandinavian hygge, with the Japanese foundations of feng shui and minimalism, this trend strikes the perfect balance between cozy, home comforts and fresh, modern style.', says Lucy Ackroyd, head of design at Christy's (opens in new tab).
'This trend feels very relevant again now, as we all need to bring some calm and mindfulness into our immediate environment.'
Speaking about the bedroom, Lucy adds: 'Contrast is a key element of this trend, try mixing a simple Japanese-style bed in a light wood, with bountiful throw pillows and cozy blankets to combine these two styles.'
24. Make your space efficient
When you are living in an apartment that has been generously labelled as a 'studio', there are only so many mirrors you can hang to 'bounce light around' or multi-functional furniture you can buy to 'maximize space'.
The key thing is just to be realistic about how much you can actually fit into your apartment and make everything you do choose really space-efficient. For example, do you really need a kitchen table? Or will a breakfast bar or a handy kitchen island with more kitchen storage be a better use of space?
25. Switch up your apartment layout
Before you buy, re-envision what you already have. Refocusing the layout could allow you to update a rented apartment without splashing out.
Try floating your furniture – just because your apartment might be on the small side, it doesn't mean that everything has to hug the walls. If you are working with a studio apartment, you can also use furniture to make distinctions between different zones.
26. Upgrade your lighting
Is it just a given that most rented apartments come with awful lighting? Swapping out all those builder-grade light fixtures for some funky shades is quick and easy but still has a big impact.
If you don't have the option to replace the light fixtures, just invest in plenty of floor lamps, string up fairy lights and avoid using those ugly overhead lights.
27. Make a blank wall better with your own gallery
Gallery wall ideas are the perfect way to add a ton of interest to a space, especially if you are decorating a living room on a budget.
They are our go-to for quickly making a room feel more lived in and hanging a gallery wall yourself is probably much more straightforward than you think.
In a bedroom, gallery walls allow you to invest your creativity in an intimate space. So if you want to create a romantic bedroom idea, go super sassy with a cheeky statement or be saucy with a nude figurine.
Top tip: If you are renting (and want to leave with your deposit), picture hanging strips are a fail-safe solution for hanging your gallery wall.
28. Update apartment walls with wall hangings
Want an alternative to displaying photos and pictures?
Fabric wall hangings and rugs are a quick and cheap way of brightening up your standard-issue blank wall and give a touch of that on-trend boho vibe.
29. Dress up plain windows
Whether it's dirty curtains or depressing aluminium blinds, lacklustre window treatment ideas are always going to give a space an unpolished feel.
Swap out your old curtains for fresh ones (these Tibast curtains (opens in new tab) from Ikea are super cheap) or a simple roller blind for privacy.
30. Get creative with statement wall designs
If you can paint, do. It's one of the easiest and cheapest ways to switch up a space. You don't just have to stick to one block color either, add a feature wall with color blocking or try out an ombre paint effect if you're in a creative mood.
31. Cover boring tiles with decals
If your bathroom tiles or kitchen splashback are in need of a refresh, steal this idea from @spencer.monk (opens in new tab) and cover them in stylish stickers (yes they do exist, just check out the awesome selection at Etsy (opens in new tab) as well as our pick of the best wall stickers.
32. Camouflage the carpet
If you are renting, pulling up the carpet just isn't an option, and even if you don't have a landlord to answer to, it's still a pretty expensive job.
So instead of replacing the carpet, cover it in layers of rugs to add extra color and pattern.
33. Use curtains as room dividers
For all you studio apartment dwellers, you may understand the nostalgia that sometimes overcomes you when you remember what it was like to have (more than just four) walls.
Obviously, you don't want to go dividing up your space with actual solid walls, but you can put up some soft walls (ie: curtains) that can separate your space into zones.
The great thing about these temporary walls is you can easily take them down when you want to open up the space again.
34. Don't be afraid of paint (even if your landlord is)
Trying to add color to an apartment that is painted in various hues of greige can be tricky, but fear not, you still have options.
Can't paint the walls? Use our guide to how to paint furniture and tackle your chairs, headboards, wardrobes and more – so long as they are yours to paint, anything goes.
35. If in doubt...add house plants
Greenery and indoor gardening makes even the smallest of spaces feel fresher and more interesting. And if you don't have space to spare for house plants on the floor, trying hanging them instead.
36. Recover your couch, armchair or footstool
If your landlord's taste in furniture is...questionable...or you can't afford to replace the tired looking sofa you bought years ago/inherited from a distant aunt, don't write off gorgeous looking furniture just yet.
If you're working with a piece from Ikea, Bemz (opens in new tab) are the brand you've been looking for. Producing stylish looking covers and legs for your sofa, armchair, footstool and much more, it's never been easier to instantly upgrade a space for much less than the cost of buying new.
For an even more budget option, pick up new cushions and a couple of throws to revamp your sofa and, in turn, your living space.
How can I maximize my apartment space?
'A sofa bed is a winner for making a living space double up as a guest room.', says Martin Waller, founder of global design brand Andrew Martin (opens in new tab).'In the same way a sofa with built in storage does two jobs at once.'
How can I decorate my apartment kitchen?
'Don't be afraid to integrate decorative tiles into a small kitchen for a dash of character and interest.' says Nadia McCowan Hill, Wayfair's (opens in new tab) Resident Style Advisor. 'You can easily upgrade a small space and add a personal touch with self-stick vinyl wall tiles in an easy and affordable way.'