Name a better feeling than getting your bathroom storage spot on, having a clutter-free room, not a damp towel or stray string of floss in sight? Ah it's just so zen-inducing. But, if you've not had that euphoric feeling in a while, fear not, there are a ton of clever bathroom storage ideas that can help tidy up your space quickly and easily.
It could be as simple as investing in some cabinets or adding in a few small storage solutions to clear clutter and organize your bathroom once and for all. It depends on the size of your bathroom and the items you're working with. Scrub-up with easy and effective bathroom storage ideas to get organized and make the most of your space. Who's knows, with all that extra room and time to chill, you may even be able to squeeze in a bubble bath or two.
Bathroom storage ideas that will banish clutter
First, take time to purge your bathroom of unused products, before you decide what kind of simple storage, bathroom organizers and practical furniture you need.
Whether you're designing a bathroom from scratch and are looking for ways to maximise space, or if you need stylish, but affordable options to suit a budget-friendly bathroom, there's heaps of ideas for bathroom storage to go around!
1. Play with vertical open display storage solutions
Add another dimension to your bathroom decor whilst occupying minimal floor space with a tall and mighty shelf ladder. Instead of hiding scrub-a-dub essentials away, why not proudly show them off in Insta-worthy 'Shelfie' fashion? Have fun mix and matching striking storage canisters, woven baskets, house plants and beautifully packaged toiletries to create a focal point that adds interest to the overall aesthetic. Choose a streamlined and gloriously grainy wood design for a Scandi-country vibe, or go utilitarian chic with a charcoal or aged metal addition.
2. Clever peekaboo cabinets
When it comes to effective storage solutions, utilizing every inch counts, and the best way to do this is by incorporating multifunctional designs that maximize function whilst saving on space. Bathroom mirror shelf units are a staple item in many homes, providing neatly tucked away decluttering space for magic lotions and potions. Choose a smart, industrial inspired design with peekaboo cut-out side panels for a contemporary twist on a classic design. A wall hung sink is a stylish update on the traditional pedestal, and creates a space-enhancing floating illusion whilst freeing up precious floor space also.
3. Prop up bathing essentials for a soothing soak
A simple wire frame bath caddy with a curved arm to hook over the edge of a roll top bath is a lovely small storage solution to hold soap, loofahs and bottles. A wire frame allows the contents to dry quickly too, so you can happily splish splash away whilst bathing. Choose a design with a brushed metal finish for a charming detail with a nostalgic nod.
4. Have a 'wheel' of a time with transportable storage
Perfect for nesting all manner of bathroom essentials, a slimline trolley is a versatile bathroom storage idea that looks rather lovely when dressed to impress with a stack of fluffy bath towels, canisters of bath salts and a verdant leafy friend. Wheels offer flexibility so that you can easily move your 'spa station' around the space, depending on your grab-and-go pampering needs.
5. Try an innovative way to store spare toilet rolls
Tired of stacking up the toilet roll pyramids in the downstairs toilet? What you need is a stylish store-cum-toilet roll holder - genius! Choose a combination design that makes storing spare toilet rolls instantly accessible without having them on display. Simply transport the basket to reload as and when required - easy peasy. Who knew that the humble toilet roll holder could become such a style muse? Choose a rattan model to add tactile texture toilet-side.
6. Elevate bubble baths with a relaxation bath tray
The serving platter of the bathroom, adorn a rustic wooden bath tray as you would a tantalizing cheese board with everything desirable for the most indulgent soak. From pretty storage jars filled with ready-to-fizz bath bombs, to glowing candles; a favorite page-turner book, or that utterly deserved glass of red, a bath tray is a beautiful storage addition in it's own right. Look out for innovative and generous designs that incorporate a dedicated holder for a glass, candle or tablet.
7. Tailor shelving with modular options
Just as we evolve, so do our homes. To adapt to ever-constant change, modern interiors need to include flexible elements that can be reconfigured with ease at any time. The diverse nature of modular bathroom shelving ideas complete with different components means that you can switch-up your storage system to either grow it or shrink it, whilst creating a layout that best suits the surface and space.
Allowing you to free up space and better organize your bathroom countertops, opt for an entirely open shelving display of luxe bathwares, or combine cupboards with open shelving if you prefer a bit of privacy for the not so glam medicinals. The options are limitless.
'String shelves are modular, so are ideal for any room size or type. Bedrooms, bathrooms, kitchens, home offices and even wardrobes, maximise your space all over the house,' advises Peter Erlandsson, co-owner, String Furniture (opens in new tab).
8. Incorporate natural materials for a tactile touch
Transform your bathroom into a natural sanctuary of calm with cane and wood storage ideas. These practical, water-friendly materials look the part too, turning once solely utilitarian accessories into characterful works with an artisan edge. Particularly handy in small bathroom spaces that benefit from sky high as opposed to low-level storage options, choose a mixed materials, wall hung, combination caddy that marries a compartment for natural body brushes and skin treats, with a towel rail for a cloud soft bath towel (as functional as it is colorful and fashionable.)
9. Add texture with beautiful woven pieces
'Beautifully designed baskets are my go-to bathroom storage accessory. They are the perfect addition to keeping your bathroom tidy because in addition to being functional, they are easy to transport when you need access to your storage; and when selected carefully, baskets will add texture and dimension to what can be an otherwise cold space. If you are using them to keep pretty washcloths and extra hand towels, display the baskets near the sink within easy reach. For hidden storage under a sink or in a closet, bigger baskets are great for stashing hair products, accessories, and styling tools,' says Anna Franklin, interior designer and founder of Stone House Collective (opens in new tab).
'When it comes to basket storage, something to keep in mind is that more storage does not mean more organized. If your bins start to overflow, you know it's time to make time to declutter and donate items you're not using. Too many baskets can make a space feel crowded, so instead, opt for a few baskets instead of many.'
10. Add an industrial vibe with locker style storage
Bathroom storage really needn't mean storage pieces built specifically for bathrooms – so think outside the box and select pieces that will bring in both style and storage space.
An industrial style unit like this one isn't perfect for storing towels, toiletries and more. You can find loads of really similar pieces online in varying sizes, try places like Wayfair (opens in new tab). You could also get out eBay or Etsy for an authentic, industrial unit (remember if the color isn't right for you, there's nothing a bit of spray paint can't cover.)
11. Carve a niche with recessed shelves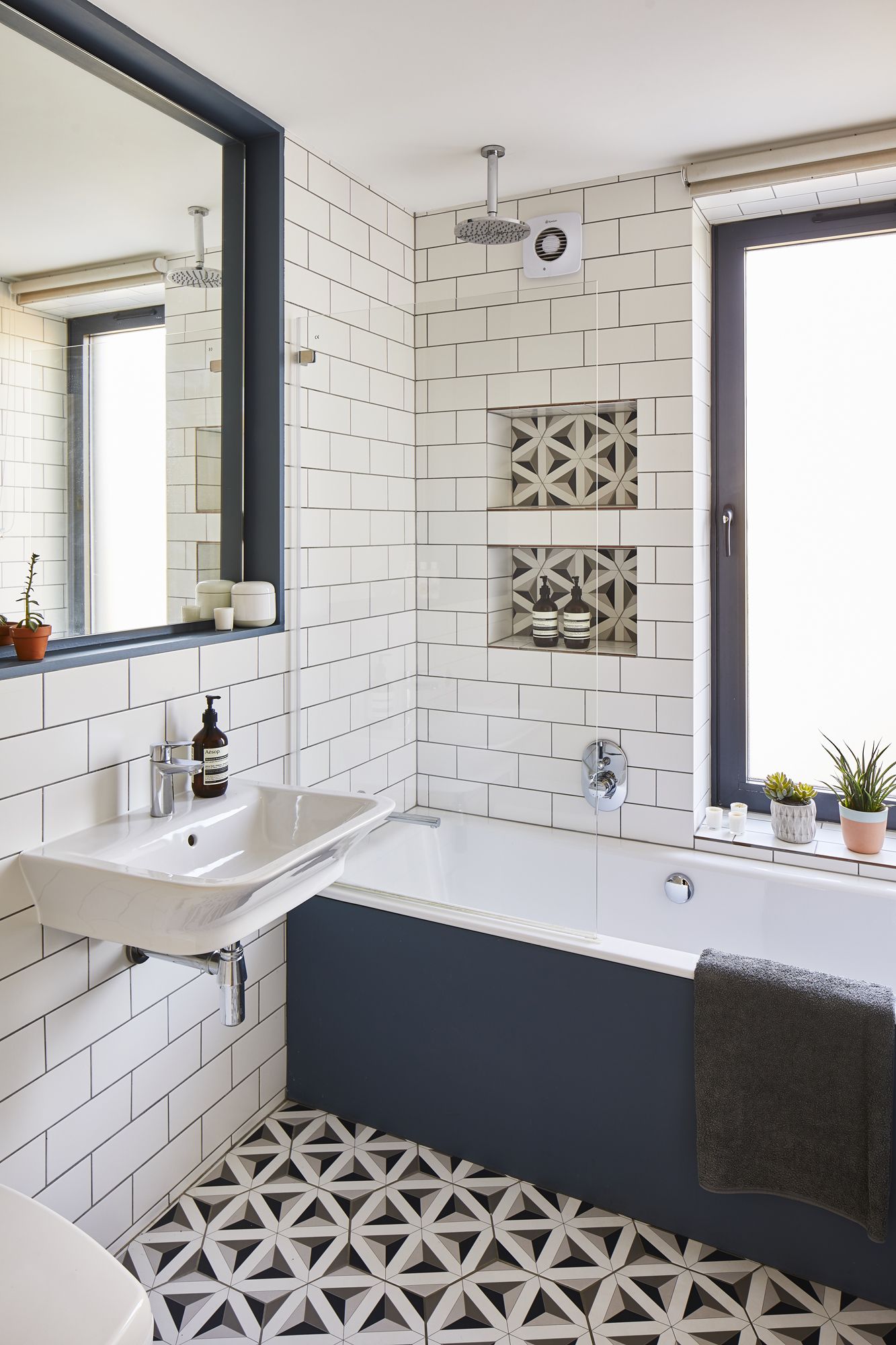 If floor space is at premium, incorporate recessed shelves into your design. Recessed shelves are an unobtrusive way to store your bathroom essentials, plus they are usually going to be cheaper than a full-on built-in cabinet. Recessed shelves are usually built into a false wall so kill two birds with one stone and use the wall to cover up unsightly pipework too.
We love how in this space the backs of the shelves have been tiled to match the bathroom flooring. It ties the whole look together and stops a wall of white metro tiles looking too clinical.
12. Run a shelf along the back of the bath
Similarly, you could create a shelf that runs along a wall of your bathroom. Having something like this behind your bath is ideal, because, again it covers any unsightly pipes but also means you can keep your toiletries accessible too. Blend the shelf into the wall by tiling the wall over it to match the rest of the space.
13. Minimal ladders for towels
Ladders are a stylish but functional bathroom storage idea – particularly if space is at a premium. Whether as a purpose-built shelf perfect for storing bathroom essentials or an actual ladder that's ideal for storing towels, there are different widths designed to suit every bathroom.
14. Go for retro vanity units
Had your eye on an amazing piece of vintage storage but not sure where you could make it work in your home? See if you could rework it as a bathroom vanity for your sink to perch on top of.
Having a statement piece like this creates a focal point in your bathroom and brings in a ton of your personal style. Plus you get plenty of storage too.
15. Add a cute wall unit
Need a really easy bathroom storage idea for your current space? Hang a wall unit. Perfect for storing all your bathroom essentials but also a place you can bring in decor like prints and houseplants. Loving this rattan shelf, it also brings in some natural colors and textures that are bang on trend.
16. Build floor to ceiling cupboards to maximize space
One of the most charming things about older properties is the little design quirks and unusual shaped rooms. Whether you love them or hate them, use them to your advantage to maximize storage space. Here, shelving is built in to the recess, using wasted space for essential storage.
17. Wooden bath racks
Another quick storage solution that looks as stylish as it is practical – a wooden back rack. You can pick one up really cheaply from Amazon (opens in new tab) or DIY one for a rustic look using a plank of wood cut to size. As well as keeping your toiletries to hand, and a candle and a small houseplant too for extra decor.
18. Build storage underneath your sink
When choosing your bathroom sink, think about how to add some extra bathroom storage. A sink on top of a vanity unity is an obvious choice but it's not the only option. Check out how in this bathroom, a marble floating shelf has been built underneath the basin for a sleek, contemporary look.
19. Or add floating shelves
Same concept on a tighter budget – a shelf has been added underneath these double sinks and then the whole area painted in the same shade to create a seamless look. For more tips on how to design a bathroom on a budget, check out our guide.
20. Repurpose your grocery bags
Has your collection of string bags got out of hand? We don't blame you, we use ours for everything, pretty sure we had one as our handbag for a moment back in summer. Anyways, they look great hung on your bathroom wall, and the Ikea (opens in new tab) bags as so affordable and fit in more than you would think.
21. Choose slimline bathroom storage for small spaces
Designed with narrow spaces in mind, slimline shelving is a must for small bathrooms. A combination of open shelving and closable cupboards is the ideal, allowing you to display prettier pieces and hide away the more unsightly bathroom necessities. We love the Silveran corner unit (opens in new tab) from Ikea.
22. Upcycle a towel storage cabinet
If your bathroom is large enough to allow it, rustic style cabinets make for great towel storage solutions and can be acquired for relatively little at reclamation yards and antique auctions. Don't be put off if the finish or colour isn't your style, you can always paint it – just go and have a read of our guide to painting furniture.
23. Add some personality with vintage finds
If you are keen on adding some quirk to your space by using vintage finds, get inspired by this gorgeous bathroom storage idea. Look out for pieces that you wouldn't normally find in a bathroom but could totally work as storage pieces. Glass fronted cabinets are great because they are practical sure, but they are also perfect for adding decorative pieces to your bathroom.
Take a tour of the rest of this Victorian villa, it's filled with quirky ideas like this and usual ways to upcycle vintage finds.
24. Turn your bathroom essentials into decorations
Sure, purely functional items like cotton buds and makeup wipes don't look all that great when they are wrapped in plastic, but stick them into some pretty glass storage jars, and you've got yourself a chic display. Not only do glass jars look lovely but they free up valuable cupboard space, making them the perfect bathroom storage solution.
25. Say yes to shower caddies
Looking for a simple and inexpensive way of tidying up your shower? Versatile and easy to install, shower caddies are designed to help you get organized quickly. They also mean everything you need for your morning wash is in easy reach.
26. Use bathroom caddies for storage that's portable
The ultimate tidying aid, caddies are a great bathroom storage idea for saving space. Slide one down the side of the toilet for spare loo roll, or keep it stocked with your bathing essentials and hide in a cupboard, only to be brought out at bath time.
For ease, make sure to choose one that's wipe-clean and water-resistant, before stocking up with bathroom bits and bobs.
27. Choose portable bathroom storage
Ideal for en-suites or small spaces, shelving on wheels is a great way to get the most out of your space. Simply wheel into action when required, or hide it away when not in use. This wipe-clean design from Ikea is perfect for storing your toiletries, or could even be used in the kitchen or bedroom too.
28. Hide clutter in hanging baskets
If you do not have room for fitted cupboards, make use of any wall space by fitting a hook rack. This versatile bathroom storage idea can be used for holding baskets full of your products, or for hanging jewelry from. Understated and stylish, they're an easy addition to any bathroom and make the perfect hair tools and make-up storage.
Want to replicate this look? All you'll need tare the SVARTSJON (opens in new tab)hook rack and NORDRANA (opens in new tab)baskets, both from Ikea. You can use it for hand towels too!
29. Clear the floor with bathroom wall shelves
Keeping clutter off the floor will take you one step closer to a neater and more spacious bathroom. Arranged with a combination of lovely looking bathroom essentials and more decorative pieces, a wall-mounted shelving is a simple yet effective bathroom storage idea.
30. Get a two-in-one wall unit
It's always a bonus if you can find a bathroom storage idea that serves more than one purpose. Mirrored cabinets do just that, storing bathroom essentials while hosting a practical mirror that not only helps you put your face on, but will also make a space seem larger and lighter.
31. Go for a floating bathroom storage unit
Floating storage units are an effective option for creating the illusion of space and work particularly well in more minimalist spaces. Opt for a model with plenty of shelves for storing folded towels and bathroom bits and bobs.
33. Get organized with a peg board
It's no secret that we are big fans of pegboard. It's super versatile, looks great and doesn't take up much space – perfect if you are working with a smaller bathroom.
This pegboard is from Kreisdesign (opens in new tab), and it comes in natural birch plywood, white, green, grey or blue. It comes with a shelf and six pegs included, but you can add on more accessories to suit your bathroom storage needs.
34. Use a stool to add rustic vibes
The humble stool is a great addition to a bathroom. It's a fantastic little seat if you're watching over your youngsters at bath time, or can be used for keeping freshly washed towels or your most-used toiletries within easy reach.
35. Use bathroom storage baskets (practical and pretty)
If your bathroom is large enough, consider grouping pretty rattan or wicker baskets together – they make the perfect home for towels as well as hair and skin care products, while adding color and texture to your scheme.
Top tip: they are the perfect place to fling all of the kids' bath toys next time you fancy a relaxing soak.
36. Factor in space for a linen closet
If you have the space, adding a linen cupboard to your bathroom will give you ample storage for towels, spare bedding and bathroom essentials.
Keep your linen closet organized with smaller storage like baskets and boxes, you could also add hooks for cleaning bits. In this linen closet, a space has been left at the bottom for a laundry basket, so you could keep that hidden away too.
37. Pick a sink that has plenty of built in storage
The downside to built-in sink units can be the sink taking up too much room, leaving minimal storage space underneath. When choosing a unit, it's important to opt for something with a couple of deep drawers and ample storage potential.
Love the look of this bathroom? You are going to want to see the rest of this gorgeous log cabin.
38. Go for a storage bath panel
These things are ingenious, especially if you have a small bathroom that makes multi-functional furniture a must. How does a storage bath panel work? Basically, the space behind the panel that covers the side of your bath that's not being taken up by the bath itself is used as extra bathroom storage.
There are lots of different options, from cupboards, drawers and sliding doors, plus you can find models that aren't even very expensive.
How do I add more storage to my bathroom?
Think outside the box and make sure you make the most of all your space. Use baskets for spare toiletries to help organize under the bathroom sink where it can easily get cluttered, use your walls for shelves or ladder storage and, remember the back of the door can always be used to hang everything from bags of loo roll to dressing gowns and towels, of course. Just think beyond a towel rail and an undersink unit and you will find there are plenty of places to squeeze in some extra storage.
What should I keep on display in a bathroom?
Professional organizer, Brenda Scott, owner and operator, Tidy My Space (opens in new tab) offers her expert tips for bathroom storage ideas: 'Bathrooms usually have a small footprint so every inch needs to be used wisely. Reduce visual clutter by having the counters organized and store 99% of your daily items off the counters and out of sight. Bathrooms can be spa-like and still functional. Keep the window ledges clear of bottles and plants, you want the natural light to pour in and not be obstructed with clutter.' She continues: 'Create storage nooks in the shower and tub area to store bottles and items needed. This eliminates the clutter of bottles along the edge of the shower or tub.'