Bathrooms on a budget needn't be any less incredible than pricier options – from interior design shows to celeb-inspired bathroom remodels seen on Instagram, the media is awash with inspirational and affordable spa-like spaces.
Because the good news is that, no matter what you have to spend, most bathroom ideas are still achievable. Thanks to lookalike surfaces, and clever DIY hacks, you can still pay homage to the hottest interior design trends without needing to hire in a contractor.
We have pulled together a list of budget bathroom know-how, some ideas we have cost under $50/£50, some under $100/£100 and some under $500/£500. You will then find some more practical advice if you are designing a bathroom from scratch and looking for budget-friendly tips.
Bathrooms on a budget: under $50/£50
Yep, we said budget and we mean it. All the ideas in this section are incredibly affordable and most of them are super quick updates (sometimes it's as simple as adding one of the best home fragrances) or little DIY jobs to anyone could do. That makes them fast as well as cheap – we approve.
1. Use online marketplaces for materials and go DIY
There's nothing like the satisfaction of undertaking a little bit of DIY. Yes, it can be messy and take longer than if you got the professionals in, but there's a lot to be said about a person who can apply themselves to an interior challenge.
Plus, there's also the obvious benefit of cost-saving on labor, and a few smug brownie points to be had when guests compliment your bathroom too.
This yellow bathroom idea by home renovator @homewithhelenandco (opens in new tab) uses daffodils to give a bit of springtime style to her bath and shower.
She says: 'I've mentioned before that I tiled the bathroom myself. My most asked question is where the tiles are from. I just searched for orange subway tiles on Ebay (opens in new tab) (yep, they're orange, not yellow) watched a couple of videos and went for it.'
'If you're thinking of wallpapering or tiling for the first time, YouTube (opens in new tab) is invaluable and just take your time. This took me weeks to finish.'
While your own labor is free and the cost of watching online videos is included in your internet package, auction-based e-commerce sites can be a minefield if you don't know what you're doing.
The cost of metro tiles will ultimately depend on how they're sold (per piece or by the box), but we've seen boxes go for as little as $23/£17 per square meter.
Be sure to haggle where you can, know your spending limits and even try searching using misspelled words. Bidding using an uneven amount can make all the difference too.
2. Start with a pot of paint
From beautiful neutral beige, to dark and daring black and navy hues, painting your walls is top of our list when it comes to updating your bathrooms on a budget. And there are many budget bathroom ideas that make the execution both easy and stylish.
Don't just think about painting your walls one single shade. Instead, explore different bathroom paint ideas that experiment with placement, paint types, textures and techniques. For example, whilst chalk paint can add a rustic look your bathroom, a floral stencil can add pretty country details to your bathroom decor.
To keep this budget bathroom decor low-cost and minimal on maintenance, the best paint for bathrooms should be moisture and steam resistant, washable and a formulation that protects the emulsion from mold - something we commonly see in damp areas like the bathroom. Some time-saving variants will be quick-drying and require no undercoat, too.
Lastly, opt for a low odor paint where possible, and keep the room ventilated, to avoid the room smelling too much like paint for days to come.
3. Swap expensive flooring for affordable alternatives
If you're a fan of tiling, but don't have the DIY expertise or can't foot the financial bill, then luxury vinyl tiling (or LVT) is one of the best water-resistant budget bathroom ideas to consider.
A long shot away from its formerly fashionable, but now outdated lino cousin, this modern bathroom idea imitates more high-end flooring options, and is an accessible choice for homeowners and renters alike. Prices start from a very purse-friendly $2.72/£1.95 per square foot.
What's more, cleaning vinyl flooring is low maintenance too. Using one cupboard staple, you can get this flooring solution gleaming in no time!
4. Upcycle old bathroom furniture
If you have tired, lackluster units that are in need of a bit of TLC - don't throw them away. Across social media sites like Pinterest and Instagram, upcycling old furniture is one of the top trending budget bathroom ideas.
If you have any old units lying around, why not try painting or sanding them to breathe new life into them for your bathroom?
Plus, if you haven't got vanity units that need revamping, Facebook Marketplace, Ebay and Gumtree are great go-tos for where to find secondhand furniture.
5. Fake tiling with adhesive wall and floor solutions
As the saying goes, time is money, so who wants to spend countless hours doing DIY during their free time? (Unless you enjoy it of course!)
Instead of spending precious time mixing gloopy wallpaper paste, cutting tile after tile and cleaning tile dust off your surfaces – wing it with peel and stick wallpaper and adhesive wall and floor tile solutions.
These sticky solutions aren't tricky! In fact, they are one of many simple bathroom ideas that mimic premium bathroom wallpaper ideas.
So get peeling and sticking for as little as $1.44/£1 per square foot.
6. De-clutter your space like an interiors expert
One of our most cost-effective ideas for doing your bathrooms on a budget, this trendy tip requires no special equipment or designated spend. Simply tidy your bathroom by either stowing away lesser used products or by binning cosmetics, lotions, gels and ointments that are past their expiry date.
This will instantly give your bathroom an update – turning it from a cluttered messy space to a clean, fresh zen area in which to relax.
But if you're wondering how to determine what goes into the trash can, take a look at the back of your packaging and look for a tub icon. This will indicate how many months the product should be kept for after opening. So off you go - tidy up like Marie Kondo!
And if you're reluctant to get rid of your haul, creating DIY bathroom shelving ideas or a ladder using reclaimed wood is a budget-friendly and thrifty idea. Dollar stores will also stock drawer dividers and other cheap ways to efficiently organize your space.
7. Paint a bathroom ceiling anything but white
Painted ceilings (that aren't white!) are a massive trend at the moment and are a really great way to add interest to a space, especially a smaller space like a bathroom. If you are a keen DIYer and want to give this a go yourself, just check out our guide to how to paint a ceiling.
If you're feeling brave and want to copy this gothic look above, we recommend going for a combo of Farrow & Ball Down Pipe and Railings, and investing in good bathroom lighting. Designing a bathroom from scratch? Head over to our feature for an in-depth guide.
8. Paint a bathroom floor for a quick and affordable update
Painting floorboards has also become a bit of a trend, so if you have floorboards in your bathroom, consider this as a cheap but chic bathroom update. You'll need to use one of the best wood paints, but if you can, use a paint designed for floors as it will be more durable and less slippery – if more limited in color choices.
You can also paint tiles – sometimes, the bolder the better, as seen above!
9. Or paint bathroom walls an unexpected shade
There are few cheaper and easier ways to update a space than by giving it a new lick of paint. Pink room ideas are among our favorites at the moment, and softer shades are a space-enhancing choice for a small room. So if you are looking for an on-trend bathroom update, we say go for a rosy hue. Something like Farrow & Ball's Sulking Room Pink, which despite the name is actually a really grown-up take on the color, would be our fave choice.
10. Paint your bathroom tiles
If you don't want the expense (and mess!) of taking down bathroom tiles and starting all over again, consider painting over your bathroom tiles. This is a relatively quick and cheap bathroom tile idea for bathrooms on a budget.
Whether you want to paint your tiles one color, or create a gradient ombre finish, a pot of paint goes a long way to achieving a luxury bathroom design for less.
Most tile paint only needs one coat, but with its high VOC content, be sure to keep it out of reach of children and keep the room well-ventilated to extract the fumes from this solvent-based solution.
It's also worth noting that gleaming grouting goes a long way, so you remove any grubby gunk before ploughing ahead.
11. Create an ombré paint effect
Experimenting with on-trend paint ideas is an easy and affordable way of creating a new vibe in a tired looking space, on a budget. Copy this idea and pick two or three shades of varying tones (we'd recommend blues for a bathroom) and create a stylish finish with the help of our guide to how to paint an ombré accent wall.
12. Experiment with bathroom wallpaper
Bathrooms and wallpaper? Surely that's not a good mix? Well, actually, it can work if you just follow a few extra steps when choosing and hanging your wallpaper. First, don't hang wallpaper anywhere that will be in constant contact with water (such as inside a shower!) – and if your bathroom isn't very well ventilated we would recommend sticking to wallpaper specifically designed for bathrooms. Otherwise, you can use any wallpaper you like, but make sure you use extra strong wallpaper adhesive; a layer of clear varnish (opens in new tab) can help protect it further, too.
13. Invest in stylish bathroom storage to make more space
Obviously, shelves are a good bathroom storage solution, but make them both practical and stylish by choosing open shelving that you could also make a bit of a feature of. Use them to store your essentials, your soaps, cotton wool, floss and whatnot (stick them in some pretty glass jars if you want) – but also mix in some more decorative pieces like candles, house plants and cute folded towels.
Get some more tips on how to style shelves in our dedicated feature.
14. Update towels – and how you store them
Literally the cheapest way to update your bathroom is to get yourself a few new towels. Also think about mixing up the way you store them. You didn't spend money on new towels to fold them away in a cupboard, so get your fancy new towels out on show! Something like a gorgeously simple wooden ladder would be perfect.
15. Add simple bathroom accessories for a fresh feel
A quick, inexpensive (and often practical) way of updating your bathroom is with accessories. We are talking soap dispensers, toothbrush holders, caddies, storage jars, all the fun stuff. Look out for cheap bathroom accessories when you next do your food shop; supermarkets like Walmart, Target, and Tesco and Sainsbury's in the UK all have really lovely and super affordable pieces.
16. Brighten and enlargen a bathroom with a mirror
It's interior design 101 that mirrors can add a ton of space and light to a room, which is obviously going to make your bathroom feel fresher. So, you know what we are going to say: buy a new bathroom mirror. Go as large as your space can handle to bounce as much light around as possible.
Have we persuaded you to invest? We've rounded up the best bathroom mirrors in our buying guide, so go and have a scroll through those.
17. Decorate with tile stickers
We only recently discovered the life-changing properties of tile stickers. They mostly come in at under $10/£10 a pack and you can use them pretty much anywhere. Look out for ones that are water-resistant (most of them are), and you can stick them over the existing tiles in your shower to recreate this look – no messy grout or expensive patterned tiles needed.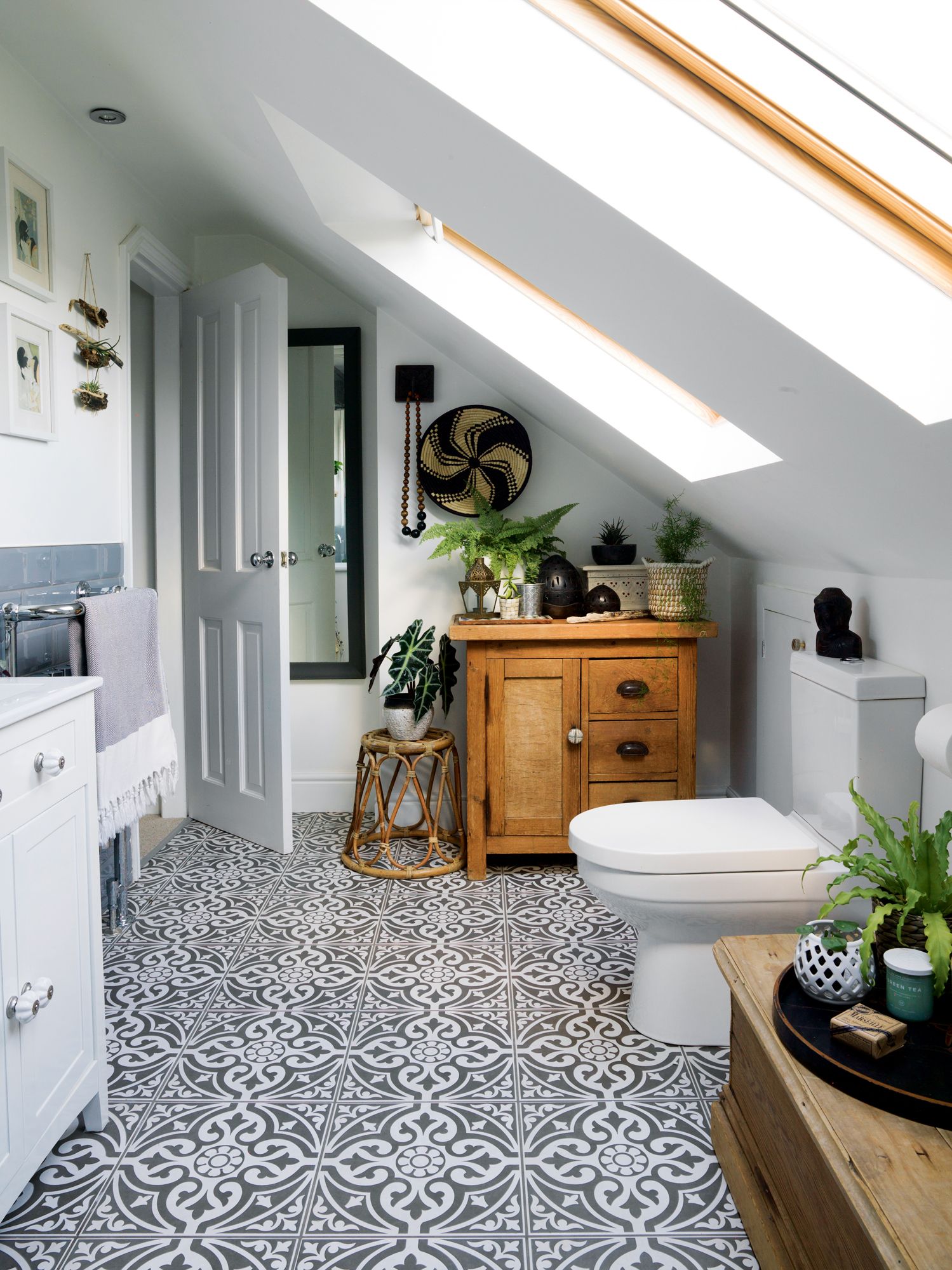 Oooooh look, you can use them on the floor too! Stick on tiles for your floor are available at most good DIY stores, and are so easy to use/install.
18. Get rid of grime in between your wall tiles
Want to update your bathroom tile for free? Well, almost. Then learn how to clean tile grout like a pro. All you need is a toothbrush, a good cream cleaner and a little bit of elbow grease. By getting rid of dirt and debris in between your grout, you'll instantly brighten up your bathroom walls for barely any cash at all.
Get the paste into all the nooks and crannies and then leave for about 30 minutes to let it work its magic. Once you've left it for a while, simply rinse off with clean water and wipe up any residue with a microfiber towel.
Top tip: Baking soda and vinegar mixed makes for a great natural cream cleaner that will leave your grout sparkling. We actually have a whole feature on natural cleaning hacks, so make sure you go and check that out too. But if the stains still remain, an affordable grout pen should do the trick once and for all.
19. Fill your bathroom with house plants
Bang on the biophillic trend, adding the best air purifying plants to your scheme is a budget bathroom idea that will bring the outdoors in and detox your space. From increasing productivity and boosting your mood, the list of health benefits of houseplants just keeps growing and growing.
From handmade macrame hangers to ceramic pots, DIY plant shelves and living walls, there are endless ways to style your plant babies.
Be sure to choose high-humidity bathroom plants that will thrive in this space. Some hardier varieties simply need a regular mist or spray of water to keep them hydrated, but set your alarms to ensure they don't die from dehydration.
Top tip: If your bathroom is windowless, we recommend opting for fake plants. You'll find a load of fake (and real) options in our round up of the best indoor plants.
20. Switch up your shower curtain
Throw away that yellowing, ever so slightly moldy shower curtain. Go on, do it now. And get yourself a gorgeous shiny new one. It will give your bathroom an instant update, especially if you choose a neutral option that'll let the other standout features in your room shine.
21. Hang a gallery wall
Treating your bathroom decor and styling like you would that of your living room or bedroom is one of the quickest (and cheapest) shortcuts you can take to giving it a bold new look. Hanging a gallery wall is one way to do this – and you needn't even spend to get this finish; simply repurpose pictures you're not using or want to swap out from other rooms.
Bathrooms on a budget: under $100/£100
So, you've got a bit more of a budget to spend on your bathroom, but still want to keep your spend under $100/£100? Here are some ideas that will have more of an impact, but still won't break the bank...
22. Illuminate your bathroom with inexpensive lighting
As budget bathroom ideas go, lighting is one of the brightest ways to make your suite look expensive. From sophisticated wall lights to stunning ceiling chandeliers, statement pendants and modern lampshades, these bathroom lighting ideas fittings and fixtures will make your space shine.
Be sure not to overlook bulb sizes and light color temperatures. While cool light is generally considered better for tasks such as applying makeup, you'll want warm light for creating a calm and tranquil bathtime atmosphere.
But, as we know, water and electricity do not mix well. So ensure you put safety first by consider bathroom lighting zones and IP (Ingress Protection) ratings. Put simply, these ratings will determine how well the electrical enclosures are sealed away from moisture, dirt and debris which can be a health hazard.
23. Wow with window treatments
From cut-price curtains, to discount drapes, low-cost window films and bargain blinds, there are loads of bathroom window treatment ideas that can add privacy and style to your decor.
What's more, many of today's modern materials can block UV rays, offer customized levels of light and keep the room cool by blocking out the sun's heat. But rather than going straight to the leading manufacturer, it pays to shop around.
When working out how to measure up for curtains, making sure you get your measurements correct is absolutely essential. Fittings that fit flush to your window space and look bespoke will make the space appear more expensive.
Once you've chosen your material, another way to save with this budget bathroom decor is by fitting the window treatment yourself. Ensuring you know how to put up a curtain pole is just one step towards a successful project.
24. Upgrade your shower head
Changing your shower fitting is one of the best ideas for updating your bathrooms on a budget.
Opulent finishes like brass can quickly turn your bathroom into an expensive-looking haven. Just be sure to keep abreast of the advice on how to clean brass to ensure this luxe look stays well-maintained.
As technology and the demand for creative options grow, you're literally showered with options. Choose from a fixed or handheld shower head, and even fixtures with jet or spray options for a sensual spa bathroom experience.
25. Swap time-consuming tiling for a sheet wall covering
We're sure you can agree that dodgy DIY tiling or cowboy builders cost a small fortune, and are a stress that absolutely NO ONE needs in their life when updating their bathrooms on a budget.
So instead of running the risk of botched bathroom tile ideas, why not invest in a sheet wall covering that you can install yourself? These large decorative wall panes come in various material types including marble and natural stone for a luxurious look at a lower cost price.
26. Buy some new pieces of bathroom furniture
We aren't talking a new bath here, or even a new sink – something like a side table or a new statement stool will do. Look for pieces that aren't necessarily made for bathrooms that will add more interest to your space. We love these rustic wooden stools from Etsy (opens in new tab), which could actually be pretty practical for chucking towels over or keeping things handy near the bath.
The gorgeous little cabinet in the bathroom above is definitely on our lust list!
27. DIY a stylish bath panel
The queen of amazing DIYs @thisenglishhome (opens in new tab) totally transformed her bathroom by making a new cane bath panel on a budget. You can find all the steps you need to know over on Victoria's Instagra – just check out the Bathroom highlight for everything you need to recreate this look.
Or, just head over to our guide for how to DIY a bath panel for everything you need to know.
28. Or, paint your bath panel
If you don't fancy that big of a DIY project though, revamping a plain white tub with a bright bath panel is easy to do and a quick way to refresh a tired-looking scheme, injecting a bit of pattern and color.
Choose the correct bathroom paints and make sure you pick an option that goes with the rest of your color scheme.
Bathrooms on a budget: under $500/£500
Still not blowing all your budget – but if you've got a touch more to spend on your space, here are some affordable ideas that still come in at under $500/£500...
29. Choose bespoke bathroom pieces
Opting for unique or bespoke pieces can be a great way of adding character into bathrooms on a budget. If you're an experienced DIY-er, consider customizing pieces you have already got; we love the idea of turning a cabinet into a washstand, and it's much more straightforward than you might think. Simply cut out a hole where the basin should be – most come with a template.
If you are on the hunt for a vanity unit, we have load of inspiration over in our bathroom vanity ideas gallery.
30. Or trawl online marketplaces for one-off finds
Buying a whole new bathroom might not quite be in your budget, but you'd be surprised what cool pieces you can find second hand. We know, you are probably thinking, 'Err... I don't want anyone's second hand toilet, thanks'. But how about a reclaimed freestanding bathtub with ball and claw feet? Or a vintage Victorian sink? A hand-me-down bathroom doesn't sound so gross now does it? Keep an eye on sites like eBay (opens in new tab) and Etsy (opens in new tab) for these kind of unique pieces.
31. Buy an ex-display or sale suite
A great tip to help you control your budget is to buy ex-display bathroom hardware. More often than not, these items are do not carry any cosmetic defaults - they are simply surplus stock or end-of-range items from the store.
While in some cases you're still covered until the brand's guarantee or warranty, it's worth double checking with the store you purchased the goods from.
Make sure to keep hold of any receipts and documentation to manage your expectations on what can be refunded or exchanged as the terms may differ from 'normal' policy.
32. Replace your bathroom fittings
If your bathroom fittings – taps, showerheads and the like – are looking a bit worse for wear, maybe it's time to get them replaced. They aren't really something you notice until you change them up and realise you've put up with that gross showerhead for way too long. Black fixtures are bang on trend at the moment and there are loads of affordable options out there. Or, for an equally trendy but slightly warmer look, try bronze or copper fixtures.
33. Update your bathroom with wall paneling
Wall paneling is a more affordable alternative to wall tiles, especially if you can fit it yourself, which most experienced DIYers would be able to do. Just be aware when using paneling in bathrooms that although, MDF designs painted with an oil-based finish are water-resistant, they shouldn't be used where they will be soaked. This is one of the best bathrooms on a budget ideas for a really premium finish.
How can I modernize my bathroom cheaply?
1. Work with the bathroom you have got
The first rule of renovating any room on a budget is to salvage whatever you can from the current design. This could potentially save you lots of money in replacing items that are serviceable but just need a little TLC. However, don't keep something if it will have a cost impact in another way. For example, it might be cheaper to replace a whole bathroom suite, than try to find separate replacements to match one another.
The most important thing though is to try to maintain the existing plumbing layout if possible. Keep the waste and water inlets as they are and try to place sanitaryware accordingly to keep plumbing costs down. Acquainting yourself with the rudiments of bathroom plumbing can help you make the right choices for your budget, too.
2. Take on bathroom renovation work yourself
As mentioned in many of our ideas for doing your bathrooms on a budget, doing things yourself can save you huge amounts. Take on DIY tasks that you feel confident with, but leave anything that involves the cutting or adjustment of expensive materials to a professional.
3. Choose sanitaryware on a budget
Other than shopping around online or waiting for sales, what can you to do maximize savings on sanitaryware?
When it comes to choosing bathroom sinks, a pedestal model or wash-stand, which has legs, is usually less expensive than a vanity unit or cabinet and makes a striking standalone piece. If you need more storage space than this type of sink can offer, add simple shelves to an alcove, and supplement with smaller bathroom storage solutions such as baskets, caddies and hooks.
To make savings, you may be tempted to mix and match sanitaryware from different brands. This can work where styles are similar, but do check the colors very closely, as not all whites are the same. This also goes for adding a pristine new item into an existing, slightly aging suite.
If you are buying the fittings for your builder to install, before purchasing double check the practical matters, such as changing an old-fashioned high-level cistern over to one that is close coupled, or if the position of bathroom taps and/or waste is due to change. Moving taps and waste pipes will involve extra work and expense.