It's officially the time of year to switch your duvet from a light, summer tog, to a thicker winter-friendly option. Or to invest in all-season bedding for the best of both worlds! And we're here to help advise, because buying a new duvet isn't always as straightforward as you'd hope, especially if you are searching for something high quality that you'll get years of use out of.
It's true: great bedding is key to a great night's sleep, and we (should) all know by now the benefits of getting our essential shut-eye. If you're trying to get your full eight hours, your duvet has the ability to determine how you wake up feeling, whether that be well-rested or overtired. Luckily, our guide on the best duvets can help you upgrade your comfort levels like no other, and we've even tested each and every one of the picks below to check they are up to standard.
With lots of types to choose from, including down, anti-allergy and dual tog duvets, you'll also want to think about whether you're a cold sleeper or an overheater (or even a bit of both). The options we've featured have been researched, compared, tried and tested by members of the Real Homes team, so buying a good quality one online doesn't have to be costly or difficult.
We've spoken with industry experts and reviewed some of the best duvets around, but if you are in need of an entirely new sleep setup, then our best mattress guide can help with that, too.
The best duvets for winter at a glance
Why you can trust Real Homes Our expert reviewers spend hours testing and comparing products and services so you can choose the best for you. Find out more about how we test.
If you're looking to buy a new duvet for the change of season, then see our top three contenders for winter just below.
The best duvets as rated by the Real Homes team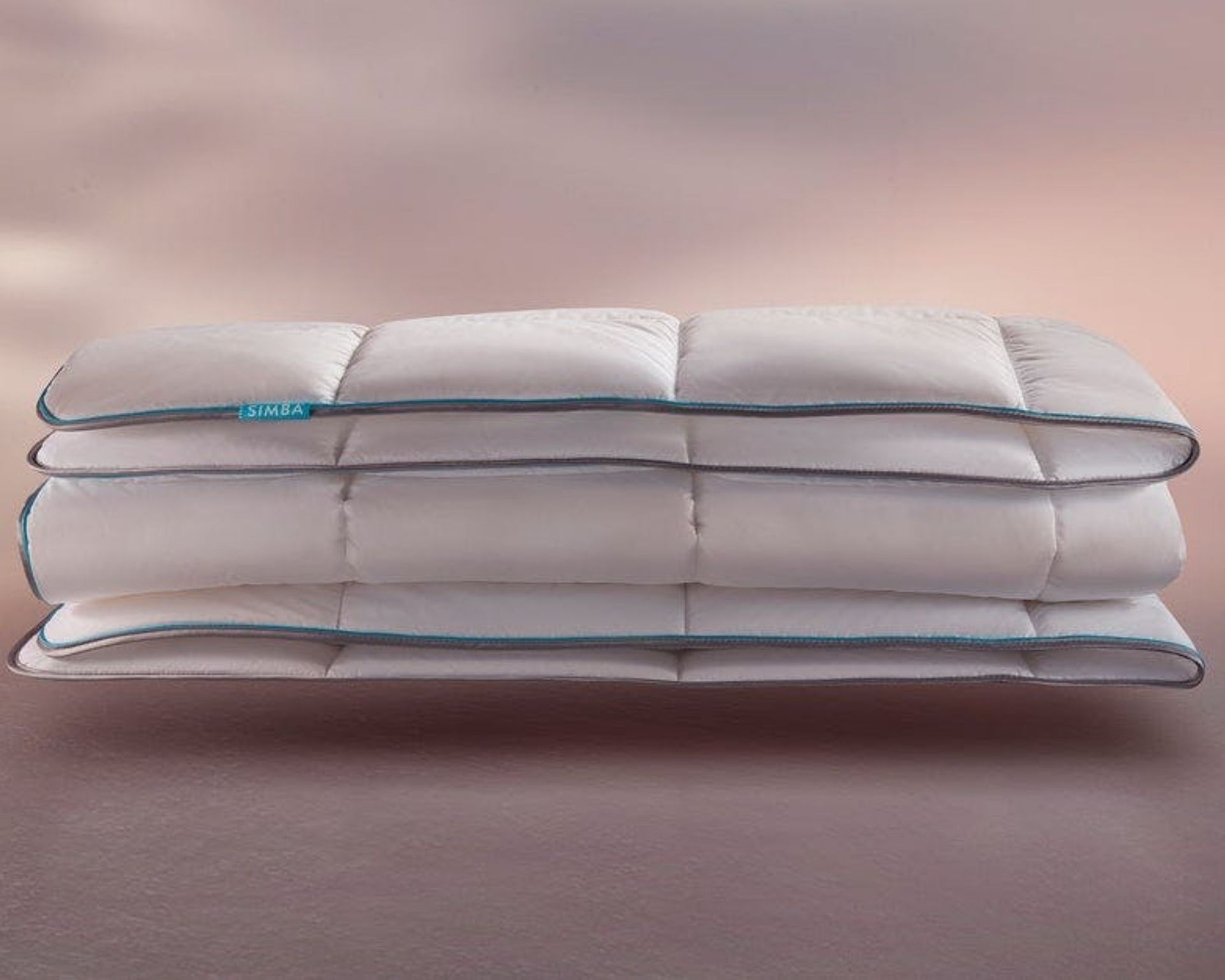 The Simba Hybrid Duvet is the dream solution to getting the best sleep ever. If you're struggling to maintain a comfortable temperature in bed, or you're having to swap and change your duvet as the weather adjusts, then look to this for a good night's sleep. It's reversible to keep you warm based on the time of the year.
Our thoughts
We had an adult and a child test one of these duvets and both of whom loved it. Our smaller tester's parents say that it washes well after accidents, and it seems to keep them at the optimum temperature all year long, all night long. It's high quality so even after being washed and washed, it still looks just as good as it did when they took it out of the box. Our adult tester, Lindsey also loved sleeping under this duvet and has found that it regulates her temperature year-round. She is currently testing the updated version which is also 10.5 tog but has two layers that can be separated for summer and winter, and the months between (you can see more on this below).
The important stuff
With this duvet Simba has done away with offering a variety of tog ratings, instead utilising what it calls temperature regulating technology to keep the duvet snug in the winter yet cool in summer. How? The duvet has reversible sides to suit each season. On one side, the impressively titled Stratos Active Temperature Regulation layer uses Phase Change technology (also used in space travel for temperature regulation) to absorb, store and release heat when you need it. Although a quick note, Lindsey did find this side to be stiffer (almost like a mattress protector) and more constructed than other duvets on this list.
Sustainability
Teamed with a breathable cotton layer on the outer, and wadding in between made from recycled PET bottles, this duvet is always soft. You'll also get peace of mind you're investing in a brand that takes sustainability seriously too, with the use of recycled Global Recycled Standard certified PET fibres for the duvet inner and cotton approved by the Better Cotton Initiative. For an eco-friendly alternative that'll work to improve your sleep, it's a worthy bedtime buy in our opinion.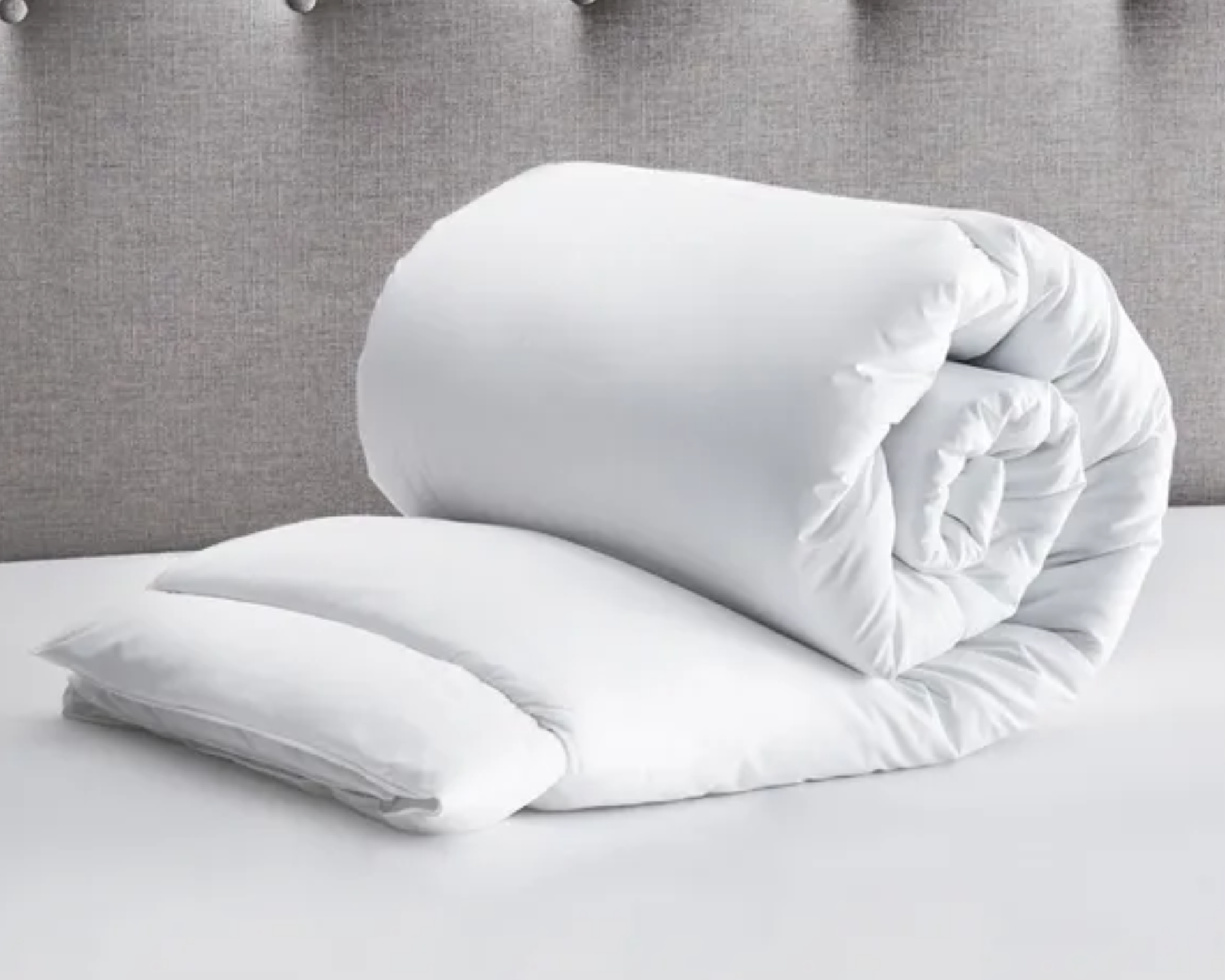 This Fogarty Duck Feather and Down duvet is the top contender for the best value. With a more than reasonable price tag, at just £60 for a king size, it's affordable luxury, like no other.
Our thoughts
I've tested the 10.5 tog and was instantly impressed by its lightweight feel. Made from natural materials, a weight to it would have been expected. But working to regulate body temperature with an all-seasons tog rating and a breathable and cool fabric such as cotton, means it's the perfect middle ground. Remember that weekend break where you slept so soundly? Ever wondered what luxury hotels use? Well, with its natural down-filling and crisp cotton outer, I found I got that hotel standard all year round. Plus, it's machine washable at your convenience, to keep your duvet feeling fresher, for longer.
The important stuff
Available in both high, low and all-season tog ratings and filled with 100 per cent natural materials this duvet doesn't snooze on quality. Not to mention, it's made from 100 per cent cotton with a 230 thread count.
Sustainability
Manufactured in the UK cuts out shipping miles for a reduced carbon footprint. So, if you've been forever searching for hotel-standard bedding within your budget and region, then this duvet will offer the best value for your wallet and the environment.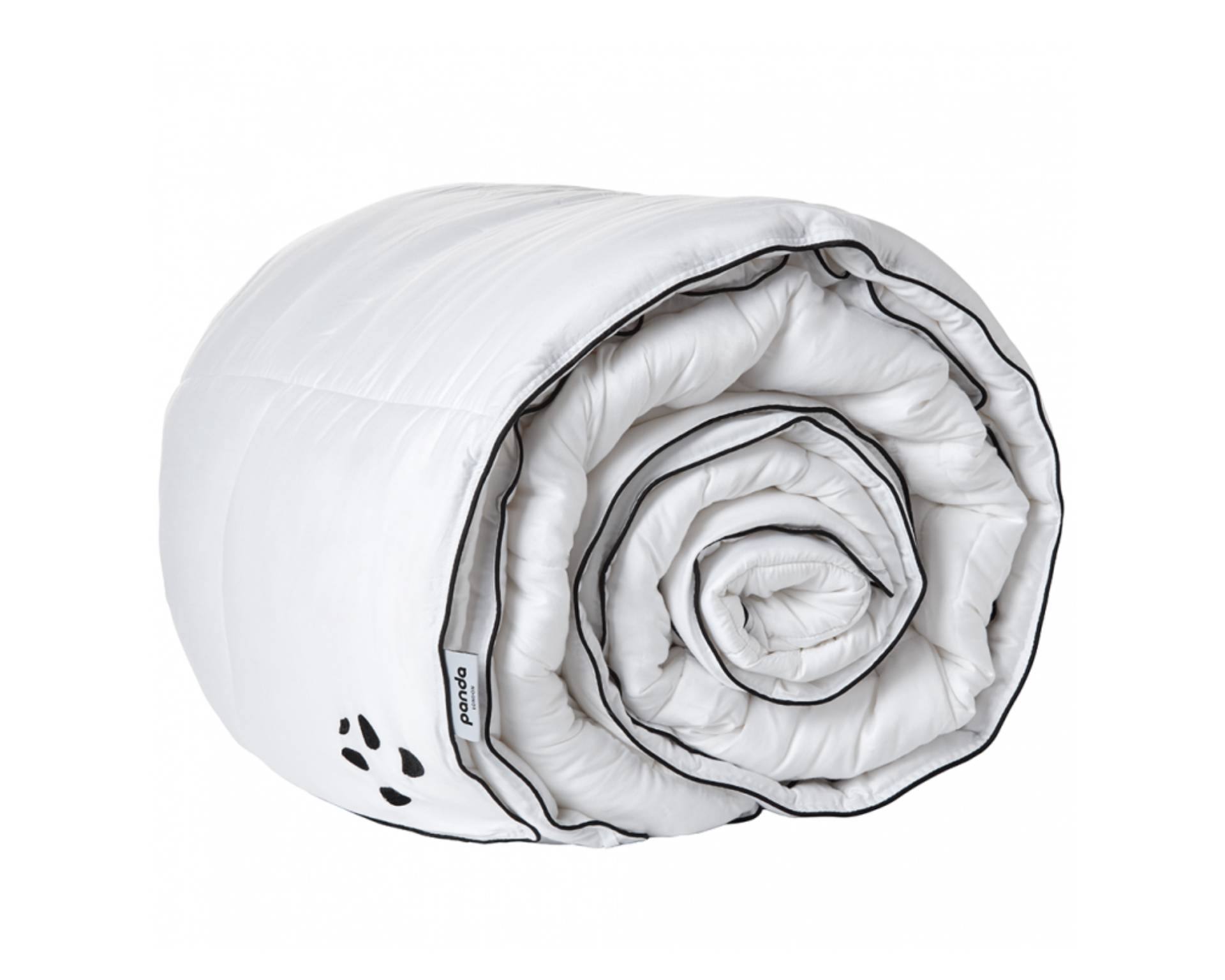 This duvet is crafted from bamboo both inside and out. Sustainably managed and organically grown, bamboo is a fast-growing, low-maintenance fibre that is heralded as a great eco-friendly alternative to cotton.
Our thoughts
Our tester Annie's first impressions were good, with it arriving in a handy reusable fabric drawstring bag carefully packaged in branded recyclable cardboard. It looks smart, with black piping and the Panda logo embroidered onto one corner. As for sleeping, its bamboo's moisture-wicking and temperature-regulating qualities were duly noted by both Annie and her partner. Along with a lightweight, cloud-like feel it worked great for Annie's partner who suffers from night sweats. Due to a 10.5 tog they both endured a great night's sleep without losing warmth.
The important stuff
Since it is on the thinner side, you can wash and air dry in half the time it takes other duvets of this tog rating. But it's good to know you won't have to wash it regularly either since bamboo is both antibacterial and hypoallergenic. With a five-year guarantee, the Panda cloud provides the premium feel of a natural duvet in a more ethical package. You really wouldn't feel guilty about spending money here.
Sustainability
There's no forgetting this product's eco-conscious focus. Whether bamboo remains sustainable once it is turned into the fibre necessary for producing bedding, isn't something we can be sure of. Nevertheless, the duvet's OEKO-TEX Standard 100 certification means that the Cloud has been tested to an environmental standard. And just as much as Panda's do, we love bamboo.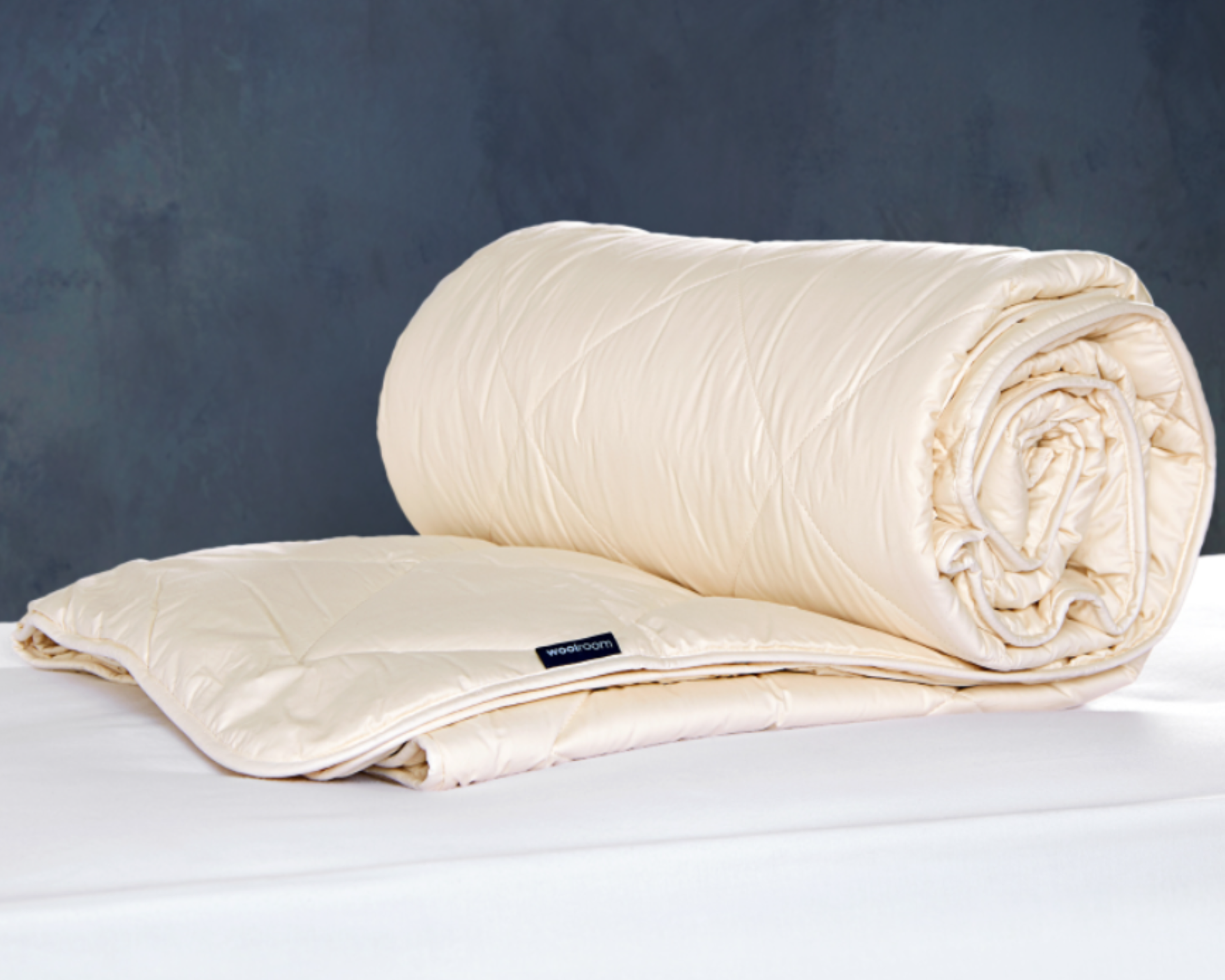 Woolroom's organic washable offering is, yes you've guessed it, our best winter duvet for cold sleepers. For a variation on other natural filled types, this wool duvet is perfect for cold cosy nights, with a cup of hot chocolate and a fire flickering in the background.
Our thoughts
With a weighty feel, this wool pick may be heavier than what you're used to, especially if you've previously slept under synthetic fillings. Though not puffy like feather or down either, it has a flat, thin profile the same as a bedspread or weighted blanket. Our tester Jaclyn, who often finds herself cold at night, loved this thickness as she felt reassured when resting beneath it. She also thought its quilt-like appearance meant it draped beautifully over the bed.
The important stuff
Being entirely organic though does mean these duvets come at a higher price and are to be handled with care. Make sure to only wash on a wool cycle with recommended wool detergent and line-dry only for a quality that lasts.
Sustainability
Woolroom is an expert in their field, hand-selecting the most appropriate wool for product use. They use 100% British wool from UK farms, fully traceable from the field through to the finished product, carrying out checks and ensuring the welfare of sheep, so you can rest easy.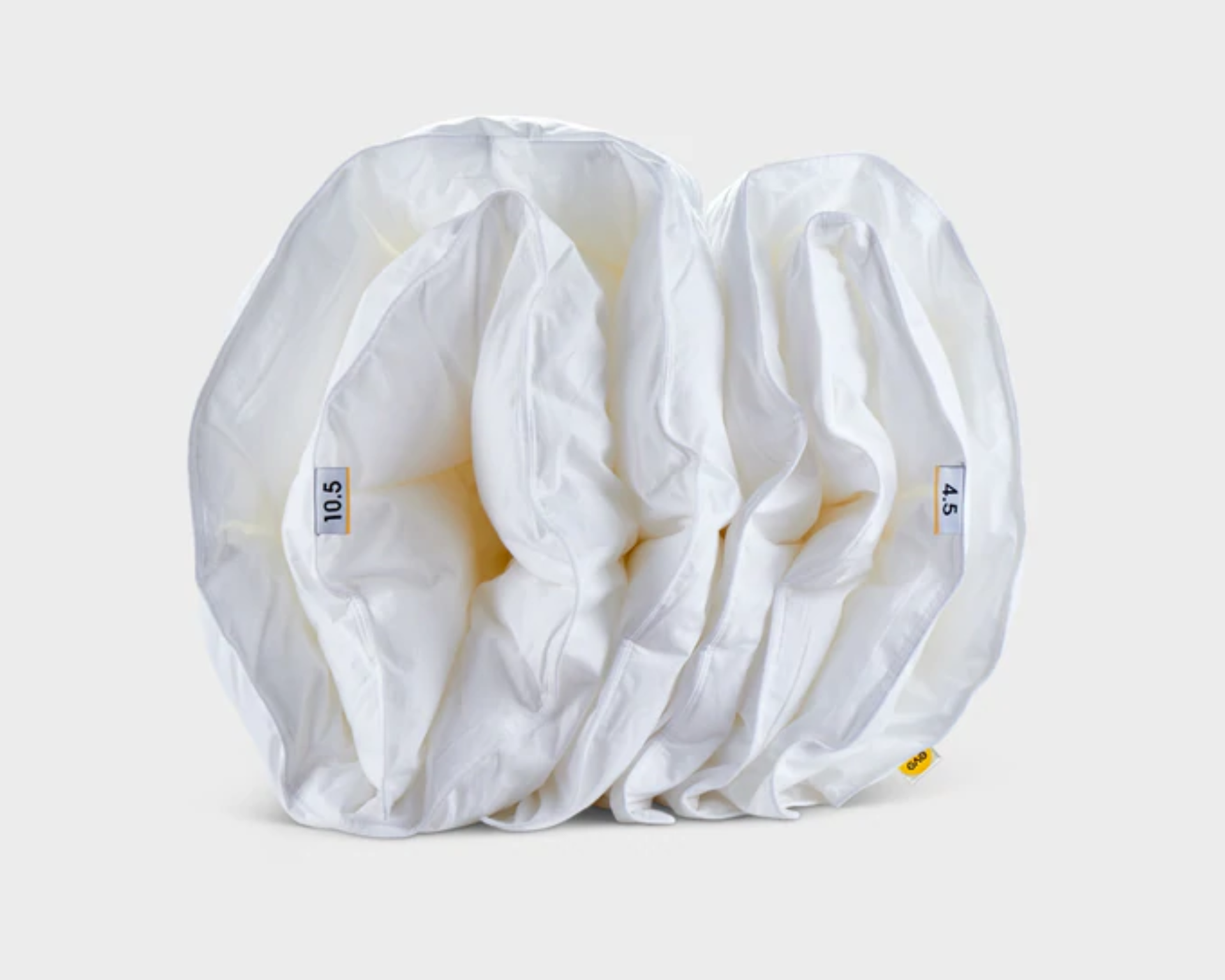 If you're someone who feels the change in seasons, having to fill up the hot water bottle in winter or sleep without anything in summer, then this all-season option from Eve will feel like a dream. The clue is in its name: you can be cool or warm, adapting to the changes in weather without compromising on great sleep.
Our thoughts
When testing, Annie found this duvet to be perfect for a guest bed. Whilst recommended for couples who find themselves having middle of the night duvet fights, its price and practicality make it an easy option to dress the bed when someone comes to stay. It even has labels for the seasons, one sunshine and the other a snowflake, which we love, so there's no confusion over selecting which one to use.
The important stuff
With hypoallergenic hollow fibre filling, it's easy to plump, wash and dry. And since each duvet is separate, you only have to wash whichever is necessary. A good thing since we couldn't fit both duvets in our small-medium sized machine. You'll also have to store either duvet away whilst not in use. So if you have limited storage space, and aren't wanting the double tog level during the summer heat, then maybe a single duvet is a better option for you.
Sustainability
This duvet is made from synthetic fibres, meaning its manufacturing process isn't the most sustainable. Nonetheless, it's manufactured here in the UK, which cuts production costs quite a lot. And since it's a split tog duvet that features one side in a cosy 10.5 tog and the other a lightweight 4.5, working to keep you at the optimum temperature all year round, you won't be needing to buy another one any time soon.
This duvet, like the Simba, is designed with Outlast technology that was made for NASA. It offers supreme comfort and is nice and lightweight. Our favourite thing about it is its antibacterial properties. It's super breathable, moisture-wicking and it always feels clean. It's ideal for anyone who might be less able when it comes to making their bed thanks to its lightweight feel. Moreover, pet owners who let their furry friends sleep on their bed will love it too.
Our thoughts
At the time of writing, this has been on our tester, Annie's bed for an entire year. It has been washed, of course, but it still looks (and feels) brand new. Annie even sleeps with her dog Doug on the bed and the duvet has no odour and never feels unclean. It's designed in pockets, and if you use a thinner cover Annie said you'll be able to see these pockets slightly. Just something to bear in mind! Otherwise, she found it great for winter and summer use, but suggest you avoid it if you're a very hot sleeper as it might be too thick.
The important stuff
This duvet comes with a one-year guarantee. It's filled with Outlast technology to keep it at the ideal temperature for you, all night long. It's stuffed with Thermocules and it's heat regulating, as well as breathable. It's wrapped in 100 per cent breathable sateen cotton.
Sustainability
Whilst this duvet doesn't hold any specific eco credentials in its materials, as a brand OTTY is dedicated to using renewable energy. Also, everything is made right here in the UK.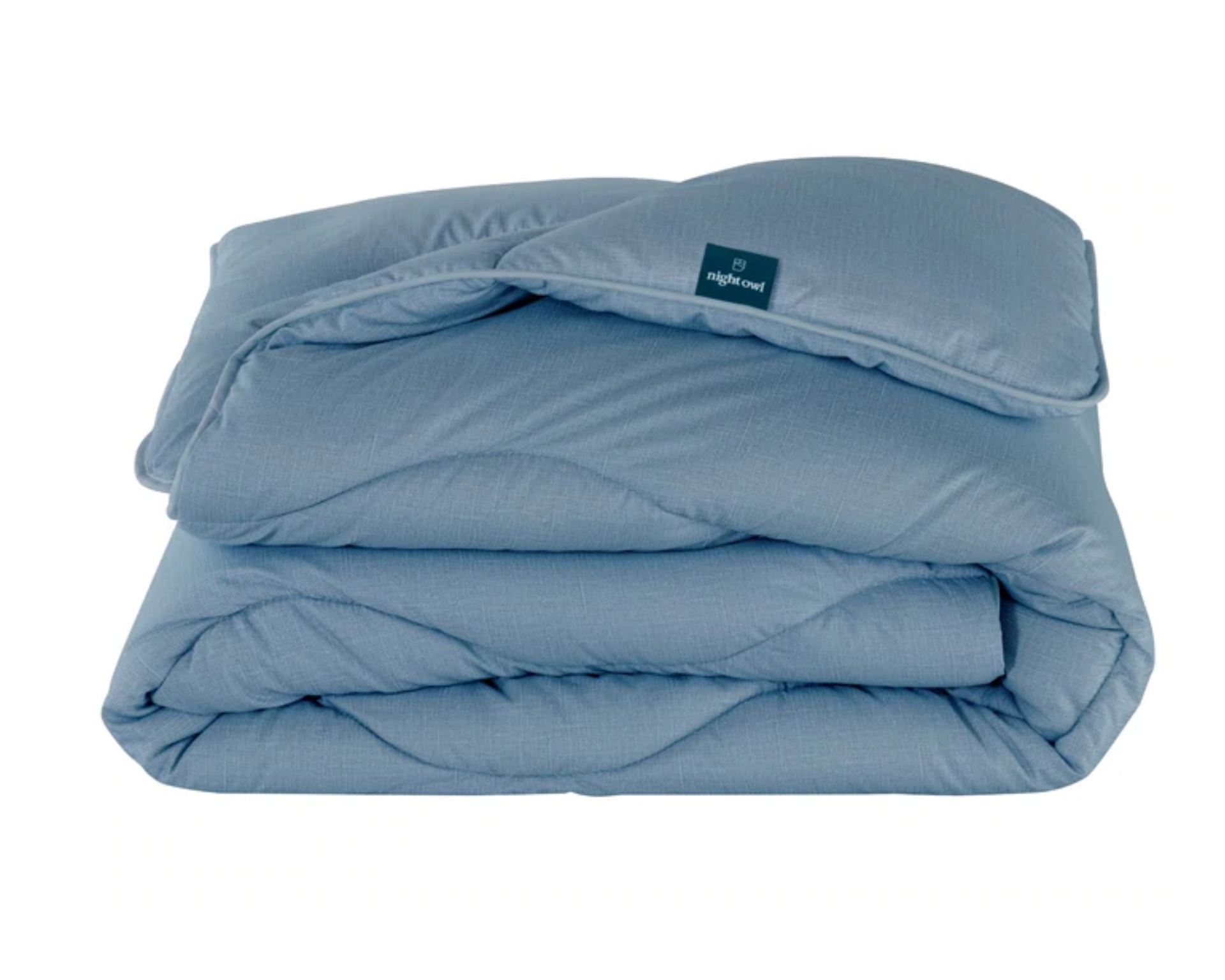 Do you find putting on a duvet cover hard work? Yep – it seems we all battle with the fortnightly change of the sheets ordeal. We're either out of breath at the end of it, or we've put it on the wrong way before getting it right. There's no surprise many of us are turning to coverless options, then. With over 3,000 great reviews for Night Owl's, it easily takes the top spot for the best coverless duvet.
Our thoughts
We called this in to be tested and our tester Molly thinks it's every bit as genius as it sounds. Convenient, practical and easy to care for, coverless picks are trending for their simplistic approach to bed making. It's a re-imagination of the traditional quilt, coming complete with its own super soft sewn-in cover, and made of 100% polyester. Though this may be handy, Molly did find its built-in cover may not offer the style diversity you want. There is a choice of five colours, but where pattern, print and texture are concerned, the options are limited.
The important stuff
When it comes to care, washing this quilt is ultra-convenient too, as you just need to pop it in a 40 degree wash and thoroughly tumble dry it to refresh it. This bedding will be staying on our bed all summer long, as like one reviewer said, it's 'like sleeping under a cloud – and no work!'.
Sustainability
We've yet to mention it's filled with 100 per cent Smartfil® polyester made from recycled PET bottles. Oh and it comes with a reusable duffle bag convenient for whenever you want to take it away. In fact, most customers either take this quilt on holiday or use it for their guest or kids' bedrooms. Best for travelling, students, or as a spare duvet to take with you to lay under the stars, this duvet comes with more uses than just dressing the master bedroom.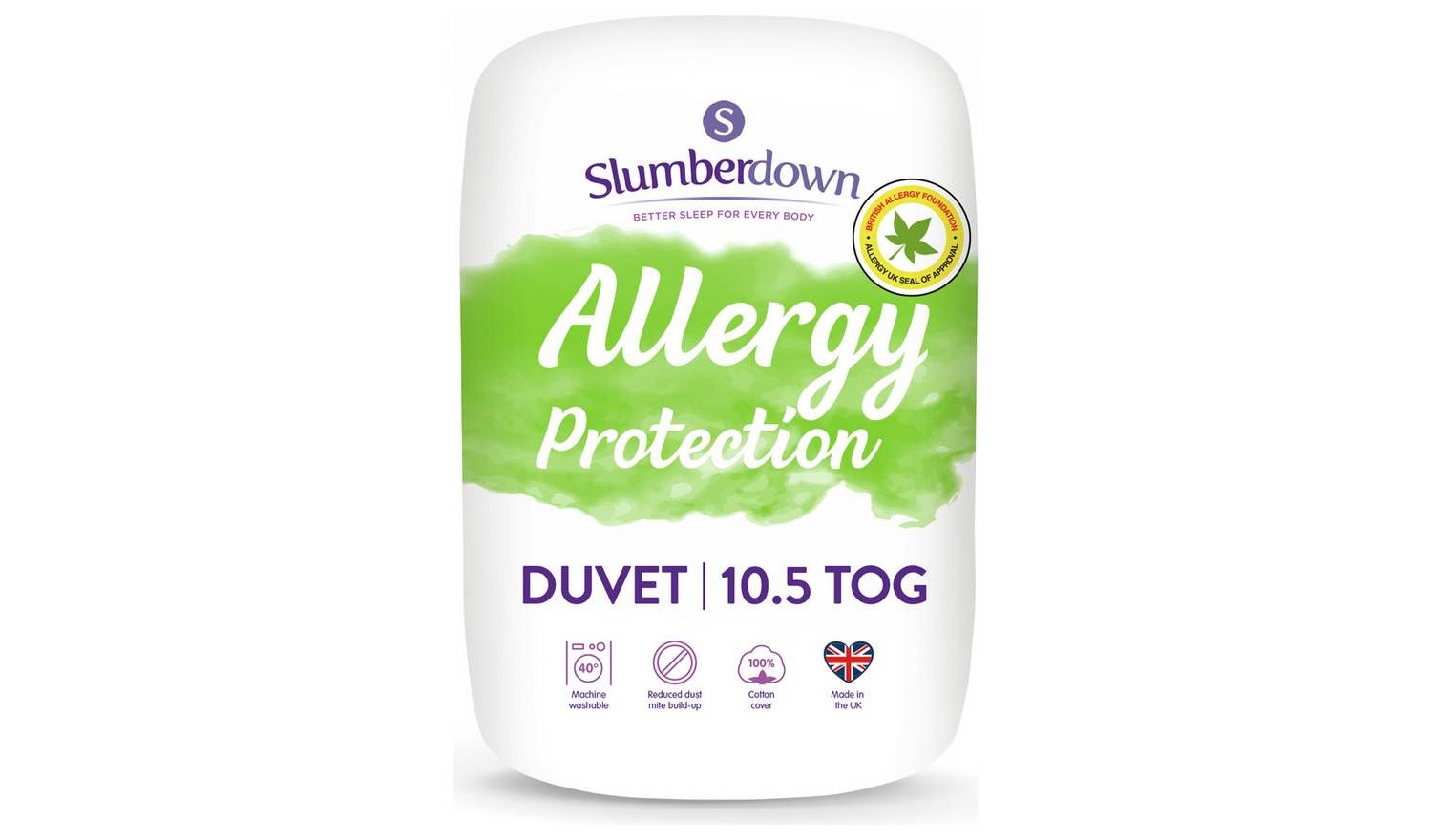 Ever heard of home fever? No, it's not another name for FOMO, 'or fear of missing out' after you've said no to leaving the house. It's actually an out of season hay fever. So, if you're ever sniffling, itching or suffering from asthma at night, then you may need an anti-allergy duvet.
Our thoughts
Tested by myself, who is often susceptible to home fever, I found my symptoms subsided almost straight away. Not just tested by us though, it's also Allergy UK approved. So you can trust it works for many. Great for keeping allergies at bay, but perhaps not the cold, we did find this duvet to be on the thinner side despite the 10.5 tog. Its hollow fibre filling makes it lightweight in feel, probably best kept for the summer months and hot sleepers. But at a surprisingly affordable price, it's a great synthetic alternative to keep allergies away, even if it is just for half of the year.
The important stuff
The lightweight feel does have the slight benefit of being super quick and easy to wash and dry. Bang it in the drum, wash at 40 degrees and have it dried and back on the bed by night-time. Slumberdown's allergy protection range is specifically made with synthetic filling and treated to help reduce the build-up of dust mites and bacteria that cause home fever reactions.
Sustainability
So if you're overly eco-conscious (as we all should be), this duvet may not be your best bet. Then again, production is in the UK, so there are lesser costs there than others manufactured elsewhere.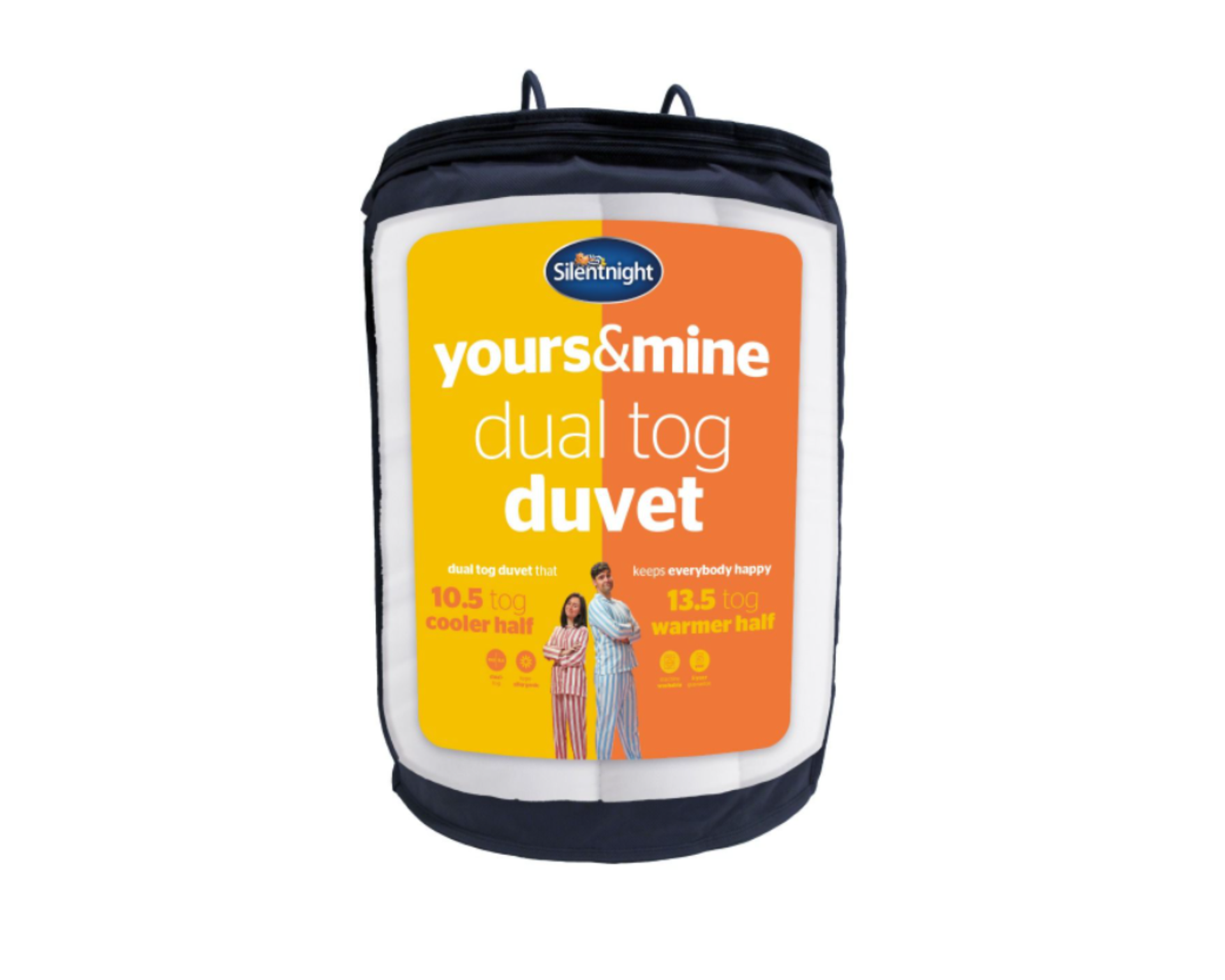 This best duvet for couples is a great solution if you and your partner are different types of sleepers. Silentnight's unique dual-tog design features a 7.5 rating for warmth on one side and a lower 4.5 rating for coolness on the other. There's also a weightier version in a 10.5:13.5 tog team to swap out for the colder months.
Our thoughts
Suitably enough, two sleepers (friend's of Louise) who can't regulate their body temperatures at night tested this dual duvet. Both agreed the split-tog design helped them sleep soundly through the night, without one needing an extra layer or the other wanting to throw the duvet off for air. So if you and your bed-sharer are far from harmonising, then this product may be best for you. Though only if you have a double, or king size bed unfortunately. It is understandable that there is no single due to the purpose, but a super king would be good for some.
The important stuff
Made from 100% polyester both inside and out, it's super soft and easy to wash. So much that it only needs a low tumble dry to have it ready to use in no time.
Sustainability
We would have liked to see a more sustainable fabric option, or at least an alternative, from Silentnight. Nonetheless, without having to overspend for a full eight hours of uninterrupted sleep, we'll take it.
Keeping you and the planet cool, this eco-friendly duvet from Eve, is extremely lightweight so you can sleep blissfully in the summer heat.
Our thoughts
Tamara was sent this product amongst others to review for Real Homes, and there's an entire Eve bedding review you can read. When it comes to the duvet, she loved it. Upon testing, its fluffy feel made this stand out from the usual thin, flat duvets that are often tailored to warm weather. As you'd expect from its name, its 4.5 tog is ultra light, providing a light layer of comfort for when you can't sleep without something over you, but don't want to overheat.
The important stuff
As long as you don't mind swapping annually to a thicker, high tog duvet, and potentially leaving the washing to the professionals (you wouldn't want to flatten its fluffy feel), then this is a great option you'll wake up fresh in.
Sustainability
Mimicking natural down and feather-filled duvets in appearance and feel, it's also impressive to know this is cleverly made with recycled plastic bottles. 30 of them to be exact. Better for the environment, and also for your allergies, this animal-free inner pleases all-round.
Normally, this duvet would be higher on our list. However, due to the time of the year we've bumped it down as it's not our best pick for right now.
An upgrade from our best duvet money can buy, Simba has released a 3-in-1 Hybrid version, mirroring a similar design style to Eve's warm:cool two-part duvet. It features a 3.5 tog and 7 tog layer (identified by different coloured binding) which can be used together for a cosy 10.5 tog in winter and used individually for summer and the shoulder seasons.
Our thoughts...so far
So far, our (hot sleeper) Lindsey still finds herself kicking off it off on nights when the bedroom surpasses 25°C, preferring a linen sheet instead. But has found the 3.5 tog alone to be comfortable in normal warm weather, though not the heatwaves of last summer. Since we're still in the process of testing this one, we'll update you as our tester swaps to using the 7 tog before press-studding the pair together when it gets chilly.
The important stuff
We've not washed it yet either but would say the handy storage bag is great for stowing away the spare layer until you need it.
Sustainability
This new duvet comes with the added eco-conscious benefits of investing in any other Simba product. Think the PET recycled filling, Better Cotton Initiative approved cotton and so on...

We're currently testing this duvet so it's sitting at the bottom of this guide until we've come to a verdict.
---
What to consider when buying a new duvet
We're answering more of your budding questions just below. Click to what you want to know to jump to an answer.
Duvet tog ratings
What is a tog rating?
A duvet's filling will determine how light or heavy it is, but its tog rating indicates how effectively it insulates. The higher the tog rating, the warmer it will be.
And which tog rating is best?
Summer duvets fall between 1 and 4.5 togs; spring/autumn duvets between 7 and 10.5 togs; and winter duvets between 12 and 13.5 togs.
Since having three separate duvets to transition over the seasons seems a bit much, not to mention how much space having to store two away would take up, an all-season duvet is usually the best way to go. Typically, these come in the form of two lighter duvets attached together to form a duvet suitable for the harshest of weather.
Couples who prefer different levels of night-time warmth can be catered to with split tog duvets that have different ratings on either side. Or, do it Dutch with two single duvets on the same double bed.
Duvet fillings
There are many duvet fillings to choose from: synthetic, microfibre, feather, down, cotton, silk and wool, and each feels different to sleep beneath. Here's a rundown:
Natural duvet fillings are an investment but feel luxurious to sleep beneath. With a high feather content, natural duvets such as wool, feather or down, can feel warm, heavy and enveloping, but are breathable, so you won't overheat. You can check the feather content levels (it's called 'fill power') on the label: the higher the fill power, the warmer it will be.
Synthetic duvet fillings are usually more affordable than feather or down-filled duvets and have a lighter feel. Whether they're made from hollowfibre or microfibre, synthetic duvets are anti-allergy or hypoallergenic – perhaps their most important quality. Another tick in the box for allergy sufferers is that synthetic duvets can be machine washed and tumble dried, so you can alleviate symptoms with ease. If you go synthetic, look out for those made from recycled materials which are better for the planet.
Size
You need to shop for a duvet with your mattress measurements to hand, or your sleeping-surface if it's a sofa bed or tent. Too small and you're at risk of not being completely covered; too big and you might feel swamped under layers of material.
Remember that some companies have European sizes along with the standard single, double, king and super king sizes. Make sure you check the dimensions before you browse for new bedding for the best bed-time set up.
The Real Homes review process
Your understanding of what makes the perfect bed, will be different from your friend, family member or neighbour's. That's why it made sense for a few members of our team, with alternative sleeping needs, to test these duvets. Some overheat at night, others often need a hot water bottle to get to sleep. Either way, we've tried these duvets so you can find one that works just as well for you. They've been slept under for several weeks and through various weather changes for every sleeping scenario. We've also put them in the washing machine and tumble dried, where recommended, to see whether they're the best value for money.
This is an updated review and some longstanding duvet favourites will have kept their place in the guide. However, we do update this guide with new information as time goes by.
Find more insight into how we test. Meet our testers below:
Bringing her knowledge in the bedding industry, Louise knows how to source a great night's sleep. She has felt the effects of Slumberdown's Allergy Protection range. "As a 'home fever' sufferer, synthetic fibres and breathability are key when it comes to choosing a duvet. As should the fabric be for anyone. On a budget too, mind, this affordable anti-allergy duvet is best for me, ticking all boxes for uninterrupted sleep."
Overseeing sleep content, Jaclyn can spot great bedding when she sees it, or sleeps under it.
Jaclyn tested the Woolroom Organic Wool Duvet, and loved its completely organic material that serves as a more sustainable option. Though 'washable' by name, Jaclyn finds its line dry only and recommendations to wool-wash with wool-detergent to be a little fussy.
With two bedrooms in her London flat, Annie has tested four of these duvets, all of which are perfect for year-round use.
The first duvet she tested was the Panda Cloud Duvet. "It's eco-friendly and super lightweight whilst being great for temperature regulation. It's true to its name as it really is like a cloud, making it easy to shake after changing your bedding."
The second duvet she tested is the Eve warm:cool duvet that can either be two lightweight duvets or a cosy 15 tog when both pieces are buttoned together. "It's the best of both worlds and super convenient in terms of storage, especially if you prefer a thicker duvet in winter and a thinner duvet in summer. I use this in my guest room and always ask anyone who is staying whether they sleep hot or cold. It also works out well if I need an extra duvet as I can split them and use them as two."
The Simba Hybrid duvet was tested by Annie's nephew, in a single size on his bunk bed. "This is a great, high-quality option for kids as well as adults. It washes well, and in a single size it's small enough to be popped straight into your machine should there be any accidents. It keeps them at the right temperature all night long and it's nice and lightweight, too."
Annie currently sleeps under the OTTY Hybrid duvet (opens in new tab). "This super light duvet is best for anyone who might be less able. It's also hypoallergenic and moisture-wicking, though I wouldn't recommend it to any hot sleepers as it's great at keeping you warm but not so much at cooling you down. It's antibacterial for peace of mind though it washes in your machine and fits in my smaller 5kg drum fine (in king size)."
Lindsey reviewed our best-rated duvet and more. Since she often struggles to regulate her body temperature, the Simba hybrid duvet, whilst an investment provided a great middle ground between lightweight and warm. "It leads to a rather structured feeling duvet, which some claim to be a bit on the heavy side, but as someone who uses a 13.5 tog duvet in winter and doesn't like the overwhelming 'flump' of down, I think this is the perfect feel."
She is currently testing their new version, the Simba Hybrid 3-in1, to see if it remedies her problems with extremes of temperature, too.
Molly has the Night Owl Coverless duvet (opens in new tab), in the more than pretty pink colour. She loves how you never have to battle with refitting a duvet cover again, and finds the colour selection a great selling point too. "This duvet is a sustainable way to keep cool in the summer, with the benefit of the coolness of a sheet combined with the luxury feel of a duvet – you don't need to buy additional sheets to spruce up your room's decor."
Tamara tested Eve's Light Eco duvet amongst a full review of Eve bedding. Rating it 4 out of 5 stars Tamara says "The Eve Light Eco duvet is padded out with a clever filling made from recycled plastic bottles. It has all the fluffiness you'd expect from a feather and down duvet, only it's focused on doing its bit for the planet."
How to care for your duvet
Machine washable? Most manufacturers say duvets should be laundered every few months. If you don't want to lug yours to a dry cleaner or leave it to the professionals then choose a duvet that's machine washable and tumble-dryer tolerant. Our guide to how to wash a duvet has plenty more advice.
More bedding buys for your bedroom...
Investing in the best duvet isn't the only thing you can do to increase your chances of a good night's sleep.
Finding a duvet cover set that also offers good temperature regulation so you don't wake up too hot or too cold can make a big difference to sleeping through the night. Of course, choose covers that also work with your bedroom aesthetic. From percale to linen, luxurious Egyptian cottons to polycotton patterned covers, you'll find our tried and tested favourites in our best duvet covers and sets buying guide.
And don't worry, you don't need to spend a fortune to get a better night's sleep. Our edit of the best bedding brands will point you in the right direction for finding options to suit your budget, whilst our monthly round-up of the best bedding sales can save you some money on the best bed sheets.