Bathroom remodel ideas have a tendency to leave us lusting after looks that we think are unachievable and very costly. It goes without saying that any bathroom reno is a big task that will require a little spend. And, it can seem complicated if you're working with a small space, or one that's awkwardly shaped, with quirky (even visible) pipework, not much natural lighting and so on.
However, not all bathroom renovations require you to spend all your cash or to rip out any fixtures – or walls for that matter. And, you can remodel a bathroom on a shoestring budget, creating the same gorgeous finish, without the cost.
Whether you have $5000 or $50 to spend, you'll be able to make the right changes to suit your space. And should you need plumbing and more specialist work doing, you'll want to know the best approach for your project, to help bring all those gorgeous bathroom ideas to life with minimal complications (and costs).
Geoff Cash, Founder of Refresh Remodeling (opens in new tab) and Remodeling Expert says that any remodeling project needs to have thorough planning to be successful. 'If the process isn't planned thoroughly, it might be costly for the client and might take a longer time to accomplish.' So you want to plan your bathroom layout and stick to it. As making unnecessary changes to your existing sanitaryware layout will keep plumbing costs down.
Once the bathroom design is finalized do not change it, but before signing it off show it to the electrician, tiler and other related trades to make sure they can't see any issues that will interfere with their part of the project. Thankfully there are plenty of budget-friendly bathroom remodeling ideas to incorporate into your project.
1. Beautifully salvaged sanitaryware
Bathroom remodels provide a good opportunity to reuse any good-quality taps or sanitaryware – roll-top baths are usually salvageable – or, for a cost-effective way to update existing fittings, you can always re-enamel or add a new surround to a bath. This is not only cost-effective, but a great way to maintain character. 'A trick I tell people as a flipper is to go to the hardware store and buy spray paint. Putting Antique Gray Spray Paint on bathroom fixtures will change the feel of the bathroom immediately. When it comes to remodeling, think outside the box. A remodel can be done on a hot dog budget with caviar results.' Says Eric Nerhood of Premier Property Buyers (opens in new tab).
Use existing plumbing where you can is best according to Jake Romano of John The Plumber (opens in new tab). 'Moving your bathroom around can add to the cost.' And if you do need any additional fixtures, purchase them yourself to cut costs, 'Buy your own fixtures. A plumbing company won't be shopping around for deals the way that you can. Buy popular brands of fixtures, as replacement parts and cartridges are more readily available. Finding unknown brands online can be a risky game down the road. Replace plumbing as needed while any plumbing is exposed. Older pipes may need to be replaced and it's a lot easier if they're accessible.' Keep your guard up when shopping on Kijiji or eBay. 'You can often find great deals on like-new products from the renovation projects of other people. However, sometimes there's a sneaky reason that an individual is replacing something.' Advises Romano.
2. Location dos and don'ts
Changing the tub placement can totally transform a small bathroom but there are some items that won't be so worth it according to Cash. 'Do not change the location of the faucet. You can change the faucet but do not relocate. Relocating will result in more work which will cost you more.' If you do need to move more key elements, try to at least keep the toilet close enough to connect to the existing soil pipe for less plumbing complications and to keep bathroom remodel costs down.
3. Mix and match materials
When you remodel a bathroom, mix items of sanitaryware from different suppliers, in order to offset affordable buys against luxuries such as a quality bath. Saving you money without compensating on a stylish, quality finish.
Cash adds, 'It doesn't necessarily mean that when a material is cheap, it's not durable. If you research well, you'll find the best alternative with the same quality as the expensive ones but at a fraction of the cost.'
Ensuring you know the difference between bad quality cheap fixes – such as plastic baths or shower trays that are so thin they are flexible and, therefore difficult to seal and make watertight – and cheaper but sound materials that will still perform and look good is key. 'Some materials are not expensive but look expensive. Find the right set of materials to give your bathroom a different look that is within your budget.' And, there are plenty more budget bathroom ideas where that came from.
4. Design features that trick the eye
When you're remodeling a small space like a loft bathroom, designs that trick the eye are your friend. Here, the homeowners have used a wall-hung vanity unit that allows the floor to run underneath, making the space feel larger than it is. The walk-in shower features an alcove for storing toiletries, which avoids shelves intruding into the space.
Adding textural and tonal interest to even the most neutral of bathrooms with matt black hardware enhances the look furthermore. Ultra modern and incredibly sleek, it looks great in almost any space. Here, the shower fixtures, tap and vanity unit add dramatic flair, while pared-back white wall tiles in interesting shapes keep things feeling light and bright.
5. Simple bathroom remodels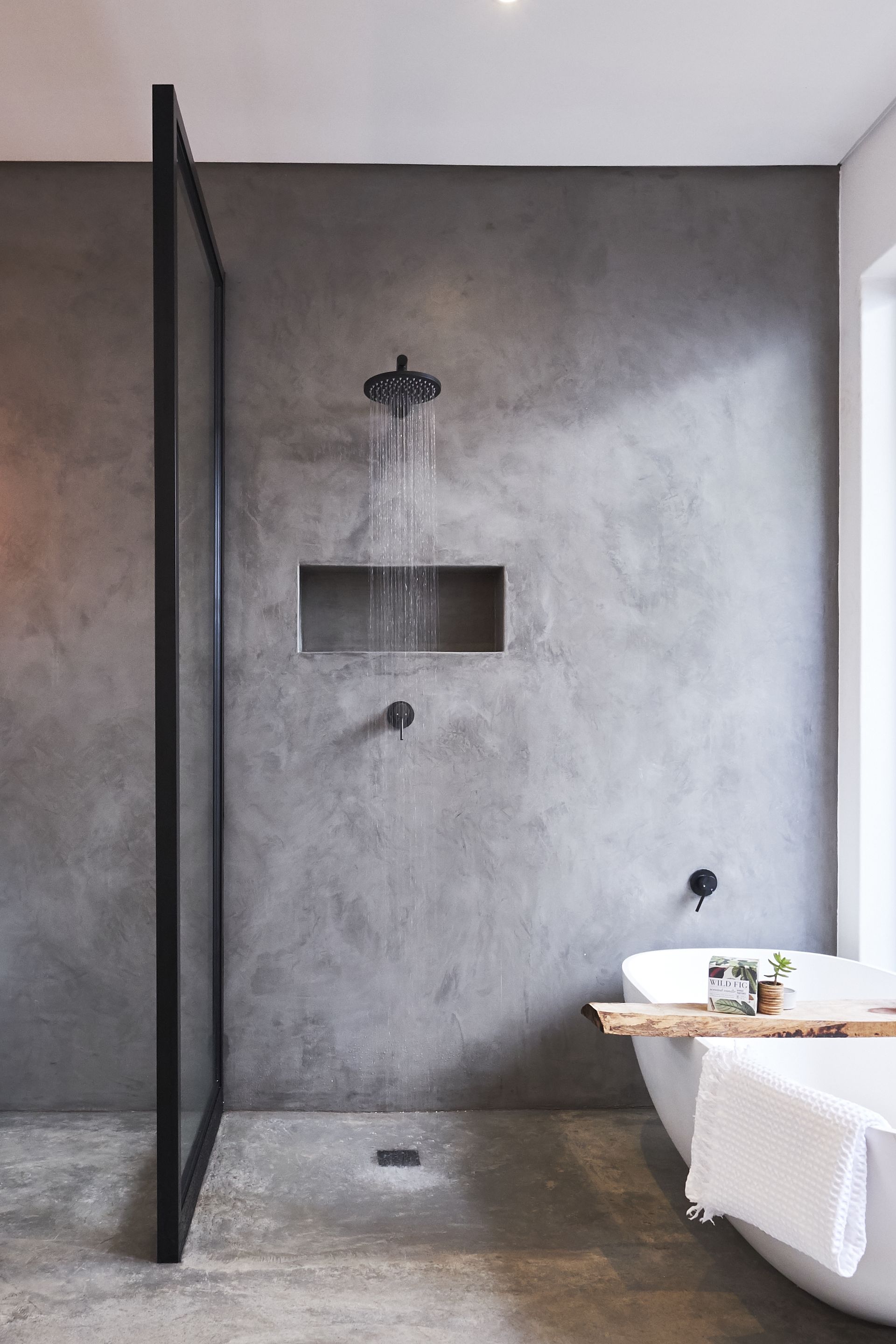 Keep the design simple in your bathroom remodel and keep curves, steps, decorative moldings and any ornamentation super low key. The simpler the design, the more cost-effective it will be to fit out. The worst bathroom remodeling mistakes happen when your project becomes overly complicated.
Nerhood says 'The bathroom is usually the most neglected room in a home when it comes to remodeling. Home owners redo the living room, kitchen, dens/dining rooms, but the bathroom is just there. And there are great ways to make the bathroom almost a showplace. People are finding that even just. recessing a soap dish, medicine cabinet, and toilet paper roll holders can give the room a sleek look.'
6. Tiling that makes a major difference
Patterned floor tiles work to add interest to this simple scheme and draw the other bathroom paint colors together. The Victorian style print echos the period of the property and complements the traditional bath and shower perfectly. Simple metro tiling gives a polished and styled finish to the space, adding height and the illusion of space without knocking down any walls.
7. Functional beautiful flooring
Nerhood recommends to stay away from hardwood as it's not the best for bathroom remodels for the amount of water and steam in the room. 'Go with porcelain or ceramic tile, vinyl plank or vinyl tile.' You can find brilliant mimics of wood in different types of vinyl flooring now that are even totally waterproof and a lot more affordable.
8. Colors that pop
Make a bold statement with the brightest bathroom remodel ideas and choose a striking color scheme like the pink here. Pairing it with on-trend black gives an industrial edge to the pretty palette. Splitting the room in half with color and taking the top color right up to the ceiling, plays with the visual dimensions of the space but without the cost of extending.
9. Make an entrance with small bathroom remodels
Different types of doors will work with different bathroom remodels. Wood will give a warm, cozy feel and be furable, while uPVC options and glass doors are hugely popular also. Cyrus Vaghar, real estate agent with Coldwell Banker (opens in new tab) in Boston suggests, 'When space is limited, particularly when remodeling a first floor half-bathroom, we have seen many homeowners opt for a sliding entry door. Using this method, we have had clients able to add in an extra half-bath where they otherwise did not expect to.'
10. Use mirrors to enhance a bathroom's space
When tackling small bathroom designs renovations be sure to consider large mirrors that can make a small bathroom feel lighter and more spacious – a frameless mirror covering the whole of one wall is very effective. To avoid misting up after showers and baths, fit heated pads behind the mirror.
11. Unexpected and smart additions
If you're keen to add value to your property with a bathroom remodel then look to enhance your space with the unexpected. 'We've noticed an increase in bidet and bidet attachment installations in recent years, so that might be something work considering to install as they seem to be growing in popularity. Adds Romano, noting a higher demand for rainfall and other fancy shower fixtures also. 'Sometimes custom showers aren't as expensive as you think.'
There are also plenty of smart bathroom features on the market now including motion-detected faucets. 'High-efficiency faucets and fixtures are increasingly popular' says Romano. And, for smart home tech fans, myriad options include waterproof televisions that sit flush within a wall, built-in hi-fi systems, smart lighting controls with preset moods for atmosphere, and automation of blinds and bath fillers. These need planning in at the offset so that wiring can be accounted for.
12. Clever custom swaps
Savannah Phillips, Interior Designer for The Knobs Company (opens in new tab) suggests how instead of ripping out vintage cabinetry which would be expensive, you could simply upgrade the knobs. 'Switching out the hardware of the cabinetry can take something from vintage to modern with a few hundred dollars, completely ripping out and buying new cabinetry is going to be a couple of thousands of dollars depending on the size and style.'
13. Upgrade shower walls
Keith Melanson, Project Manager of RenosGroup (opens in new tab) notes the huge difference you can make by tiling a shower. Plus, if you DIY, you'll save a ton. 'Retiling your shower walls can make a world of difference and can change the aesthetic in your bathroom. This bathroom renovation is popular as it adds an entirely new look to this room. As this space is one of the most used home areas, the tiles are the focal of your bathroom; you want to make sure you love them. The best way to save money on this project is to stay within your budget when shopping for tiles.'
14. Expansive wet rooms
Wet room ideas are all the rage and when well-designed they come into their own. They are a little more costly of all the bathroom remodel ideas but on the flip side, they are practical, space-enhancing and a dream to use for the whole family.
15. A balanced lighting scheme
Philips adds 'Bathrooms often do not get any form of natural lighting, and in homes sometimes the artificial lighting isn't sufficient and can ruin the entire aesthetic. Instead of starting from scratch with new cabinetry, counters and wall coverings, try changing the light levels to something that would be suitable for the bathroom. Switching just the bulbs in the existing fixtures to LED bulbs can be a $5 fix per bulb versus a couple thousand dollar full bathroom remodel. With the saved money you can even splurge on switching to a vanity fixture around the existing mirror. These minor changes can completely update and change the entire look of the bathroom, and anything in it!'
So even installing simple bathroom lighting ideas can make a vast improvement. Opt for pendant lighting — a single central fitting will prove much cheaper than individual downlights or wall lights. Check out multi-bulb fittings that only require a single power cable, for a flexible scheme.
16. A statement feature for a luxe look on a budget
Choose one feature that will give your bathroom a standout, luxe feel. This might be a freestanding bath – take a look at our pick of the best rolltop baths for traditional homes – or splashing out on some really fancy taps. Or, if you've found tiles beyond your budget, use them on a statement wall with a more affordable complementary tile elsewhere.
17. Storage meets style
Nothing can ruin a nice new room faster than clutter, so don't forget about bathroom storage ideas when bringing your bathroom remodeling looks to life. Fitted furniture offers the chance to achieve a co-ordinated finish, with every type of bathroom improvement project, but it needs to be planned from the start. Freestanding and modular furniture offer more flexibility and can be added after the sanitaryware is in place. Modular furniture can also be wall-mounted, making effective use of space in clutter-prone areas of the bathroom.
18. Vanity unit check
'Replacing your vanity is one of the most popular bathroom renovations as it is another focal point of your space. Homeowners often lack counter or sink space in the bathroom, and swapping out their vanity is the easiest solution. The best way to save cost on this project is to keep the vanity in the same spot, as moving plumbing fixtures can be very costly. Another way to save money is to keep your old fixtures for your new vanity if it is a possibility.' Says Melanson.
Bathroom remodeling tips
Pick reputable tradespeople for your bathroom renovation
Be it plumbers, builders, decorators or electricians, always pick a trusted tradesperson and do your research on your chosen bathroom renovators. Use recommendations from friends and ask to see previous examples of their work.
Romano says 'I'd emphasize using an insured plumber. There are a lot of liabilities when water is involved, and even the most skilled individuals can have issues. Having insurance can make a big difference.'
Telltale signs of un-trustworthy tradespeople are, those who ask for cash – it is illegal for them not to declare their income and if you have no receipt, you have no comeback should things go wrong. Likewise, beware of requests for upfront payments which can imply cash flow problems, or that builders' merchants won't give them credit. Any reputable builder will be happy to sign a simple contract with you and a third party to ensure the agreed work is on schedule.
Appoint an electrician early on in a bathroom remodel
You will need to find an electrician for any rewiring, lighting schemes and the addition of an electric shower or shower pump. Chat to one before any building or plumbing work starts so they can plan their jobs into your bathroom remodel schedule. Make sure you choose a registered electrician as you will get additional protection should something go wrong.
Remember you can haggle on your bathroom renovation cost
There's absolutely nothing wrong with asking for a discount – one of our favorite bathroom remodel tips – in fact, it's built into some shops' official policies. Even the big high street DIY stores can be open to negotiation on prices.
Select sanitary ware before plastering or tiling
To ensure the hot and cold pipes and waste are in the correct positions, you need to choose all sanitary-ware before plastering or tiling. Specify everything before first-fix stage, as leaving key decisions until the sales are on can mean expensive alterations with your bathroom renovator.
Think about waterproofing the space
Tile backer boards can be used to line bathroom walls and shower enclosures. They are 100 per cent waterproof when taped and jointed, and act as insulation too (so are a great recommendation when installed below underfloor heating). These will limit the risk of leaks which can be incredibly damaging and costly to repair.
Never skimp on brassware
These are the items that are in use every day, in particular concealed valves that regulate your home's water temperature. Look for 'rub clean' showerheads with easy-clean nozzles that will prevent limescale build-up; great in a hard-water area.
Conceal pipework
For a clean look, ask the plumber working on your bathroom renovation to conceal pipework and services in flooring, ceilings and boxing wherever possible. This also makes tiling and laying flooring much easier. However, be sure to make sure vital components are accessible in the event of a leak.
If you are installing a freestanding bath away from walls, you can raise it on a plinth and hide pipework underneath.
Don't forget about ventilation
Many cases of damp are due to condensation. A bathroom is damp and steamy by nature, so install adequate ventilation systems (such as an extractor fan) to keep moisture to a minimum when planning your bathroom reno.
'One not-so-exciting element of bathroom remodelling is ventilation. A lot of folk make the mistake of under-thinking this part, but proper ventilation is really vital to avoiding damp and mold, which can create serious health issues, not to mention potentially significant repair costs.' Says Michael Dean, Co-Founder at Pool Research (opens in new tab).
If your bathroom has wooden windows, a window vac that can suck up condensation will prove invaluable for quickly getting rid of water that may rot the frames.
Avoid wall-mounted sanitaryware if you're on a low budget
Ditch wall-mounted fittings, as less work equals less cost. Wall-mounted taps, basins and toilets often require specialist fixings, chasing out to house plumbing, and the concealment of cisterns. It's quicker and cheaper to fit deck-mounted taps, pedestal basins and close-coupled WCs.
A bigger space will need more heat
If you are extending the bathroom space in your remodel or if you're adding an ensuite, don't forget that this will mean a larger area to heat. Re-assess existing heating and upgrade the heat output if needed with a more powerful towel heater or radiator. You could also take the opportunity to include underfloor heating. At the same time, check that the water pressure isn't affected by the addition of new sanitary ware.
Check materials are suited to a bathroom environment
Always choose materials that can withstand the conditions of a bathroom. From the best bathroom flooring to waterproof paints and sealed wall tiles, there are products designed to withstand high volumes of water.
Make your bathroom beautiful 🛀🏻
(opens in new tab)
Get two free tickets to the Homebuilding & Renovating Show! (opens in new tab)
Visit the experts in home renovation for all the latest inspiration and industry updates, sure to kickstart your own home improvement project.
Plus, register online for entry for 2 people on 25 and 26 June 2022 at Sandown Park Racecourse, Surrey.*
*Terms & Conditions apply.