Whether you've got a cozy space in the city, or found an affordable apartment on the outskirts of town, budget-friendly small apartment decorating ideas are something we are always looking out for.
With real estate still being advertised at premium prices, many of us aren't blessed with a ton of square footage. So it's always inspiring to see well thought-out apartment decorating ideas that are considerate of smaller setups too...
Because the cost of redecorating can be an afterthought, especially when you're renting and small space solutions don't always come cheap. However there is a lot you can do with a little creativity and know-how.
1. Go faux with realistic-looking fake plants
If you live in a small apartment, the likelihood is that you won't have the luxury of a backyard or large space for real plants to soak up some sunlight.
However, that doesn't mean you can't become a plant parent. With chlorophyll green colorways and realistic-feeling foliage, the fake plant ideas we're now seeing are making us do a double-take.
So if you're particular poor at remembering to water your plants, have hay-fever, or possess a pet who might eat a toxic plant – this cheap apartment decorating idea is for you.
2. Choose dried flowers for a low maintenance look
'Dried flowers are an easy and affordable room update to have all year around, especially if you are short on space and light.', Tascha Brook, home accessories buying manager for George Home (opens in new tab). 'A small or tall arrangement still looks impactful whether in a vase or hung on the wall – perfect for the bedroom.' Using the wall for display will save on space and draw the eye up too. 'The flowers allow you to combine different textures and include flashes of soft color without the worry of updating them every 1-2 weeks.'
3. Upcycle furniture found at a thrift market
Keeping a couple of eclectic furniture finds in your living space will enhance a small apartment and give it personality. If you don't manage to find anything gorgeous up front, treat it yourself with a lick of paint.
4. Incorporate shelving above your headboard
If you're scant of wall space, consider incorporating shelving ideas above your headboard. This is not only a space-saving idea, but you can make this a feature or 'shelfie' in your sleeping area.
It's also a great way to display picture frames if you're not allowed to use nails or adhesive materials as part of a rental agreement.
5. Trick the eye with a large bathroom mirror
Not just for checking yourself out before a big night out, or getting up close and personal with spots or a dental regime, the best mirror ideas are magical and when you're looking small apartment decorating ideas on a budget, these panes of glass can turn your pint-sized pitch into a glamorous palace with grandeur.
In order to give the illusion of sizing up, you've got to stock up. So place them all around your apartment. That includes your hallway, bedroom, bathroom and living room. Absolutely everywhere!
And you don't just need to stick to one shape or size. Where it's a small round makeup mirror or a large floor length fixture, experiment with all sorts of room-enhancing reflectors.
6. Use a room divider to zone, or create a dressing area
Dividers are great for a multitude of purposes. Where you've an apartment that's all on one level, these devices work to zone areas, create a pop-up wardrobe space or an impromptu dressing area, without spending on any reno works.
They're also a great tool for a shared bedroom idea when an older child may want some privacy, be it for reading, revising or getting ready.
7. Create a gourmet kitchen with a planter box idea
Mix up a collection of succulents and plants with living lettuce, herbs and garden vegetables. Perfect for those who don't have the luxury of a balcony for a bit of urban gardening. Find these plants in your local garden store or pick up a live cilantro or basil plant on your trip to the supermarket to get started.
If your idea of cooking involves putting a pre-cooked meal into an oven or microwave – that's OK too. The plant box can be used for decoration all over the house, as temporary storage in the hallway or as a divider to create cozy corners in larger rooms.
Style with flowers, plants, books, toys and magazines – or maybe a little of each to really show off that modern family living vibe.
8. Jazzed up kitchen paneling
If you don't want to over-complicate a kitchen wall decor – avoid kitchen tile designs at all costs. Not only can the grouting be messy, but if you hire a laborer to do the work, it can also prove expensive.
Instead, create a decorative effect with paint. Using masking tape and a steady hand you can create a stylish small apartment ideas on a budget.
9. Use wall stickers in an adult bedroom (yes, really)
Whether it's the wall behind you when you're making video calls, or you just want to add interest to the space above your bed in your apartment – wall stickers can work for adults too.
OK, so we're probably not going to advise that you fill your space with unicorns or glow in the dark stars, but something like this Mandala design (opens in new tab) decal is youthful and trendy.
10. Update your lampshade fittings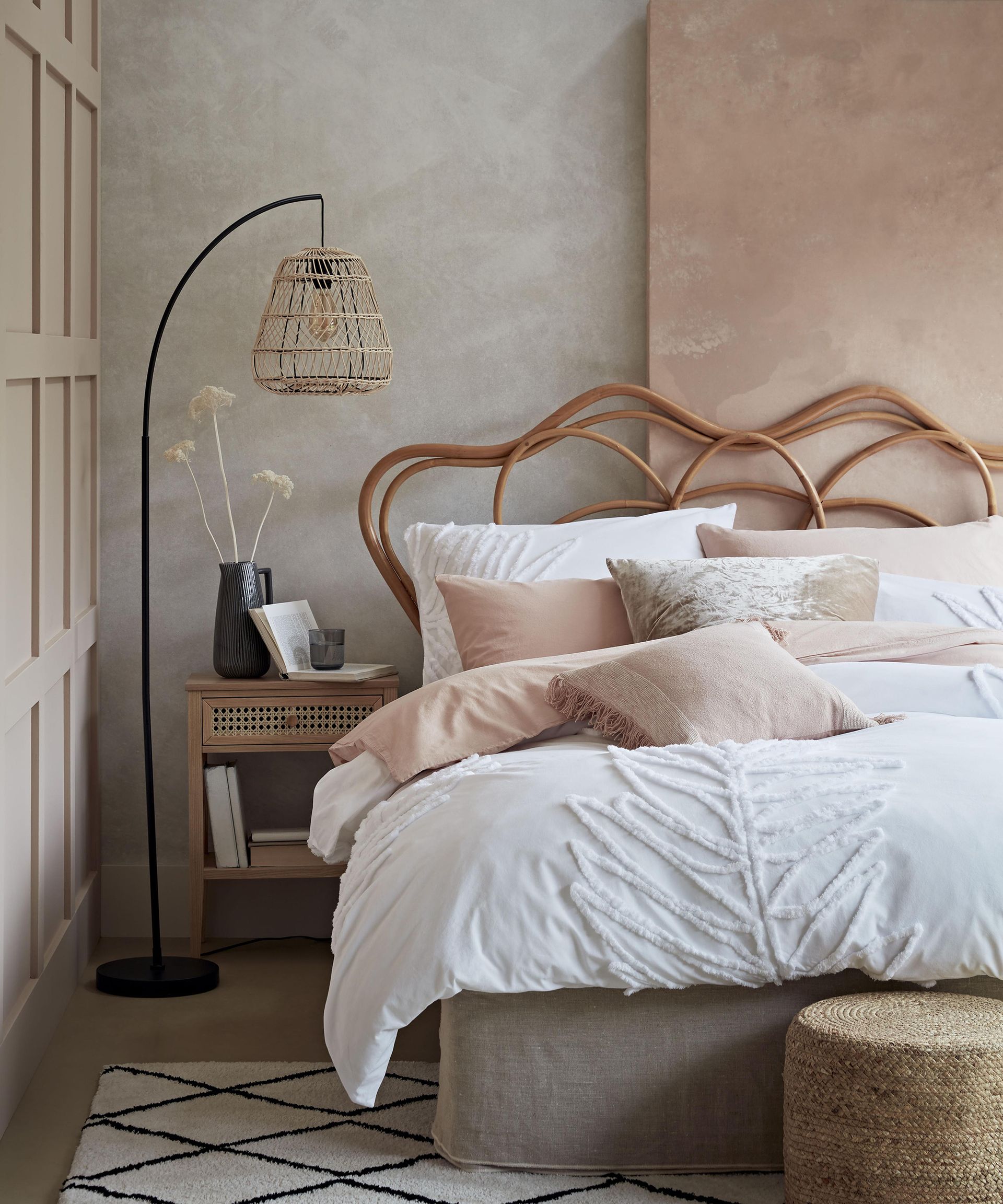 Whether you're reading a book in bed, or checking up on social media updates (tut tut), task lighting is essential in a bedroom. Not only does it stop you straining your eyes, but it's typically in closer proximity than a wall light.

To keep your bedroom lighting ideas from looking dated in your apartment, switch out old lampshades for new, clean ones. Certain styles can date a room, and over time, some lamp shades can attract dust and grime. Yuck!
If you're on a shoestring budget, keep the original base of the lamp, and buy a new shade that adds a pop of color or a graphic pattern to liven up your apartment cheaply.
'Take a look at the lighting in your home and see how it can be revamped to give your space a lift.' says Nadia McCowan Hill, resident style advisor at Wayfair (opens in new tab).
'Lanterns, lamps and string lights are perfect for adding subtle, flattering lighting which is wonderful for a cozy space. A vibrant shade will add a pop of color and instantly refresh your look.'
11. Can't afford a new bed? Replace the headboard
If you've ever gone onto a bed website or stepped into a showroom, you'll know just how eye-wateringly expensive bed frames can be. And that's before the mattress, mattress topper, sheets and duvet cover.
So if you're looking for small apartment decorating ideas on a budget, replace your headboard instead. This soft pink velvet scalloped design from Oliver Bonas (opens in new tab) takes its inspo from Art Deco architecture and is paired with jewel-like Citrine colored cushions.
Lucy Ackroyd, head designer at Christy (opens in new tab) says: 'The more opulent the shade, the more of a cocoon-effect it will create for you. Terracotta can bring depth, and paired with a biscuit, stone or soft pink will bring comfort to your home.'
12. Add a beaded curtain to add privacy
This rainbow-motif, bamboo curtain is giving us Pride vibes and makes a simple, budget-friendly way to split your small apartment into zones, you can cleverly separate the kids from the adults when you've got guest round.
The tactile texture means it'll slowly shower you in wooden beads as you walk from one room to the other.
13. Add a ladder shelf to store without losing floor space
You've heard the phrase tidy phrase 'tidy home, tidy mind' right? Even science suggests that a neat and well-organized apartment results in better mental health.
So one way to do this is to clear your floor of any clutter. While we've already covered upcyling wardrobes and cabinets, you ladder shelving idea will ensure no floor space is lost. This vertical bedroom storage idea adds height to the room and has many levels to display your much-loved books and ornaments.
'Treat your shelf like a canvas, and create a work of art on top of it with artfully styled 'clutter.', says Peter Erlandsson, co-owner of String Furniture (opens in new tab).
'Not only is it fun to create your own, organic and changing art work from your own nick-nacks, but it is a great way to save space.'
14. Add a Berber style rug (or two) into a bedroom space
'There's just something about the rustic, shaggy and raw paired with sleek, clean and polished which creates a real sweet spot for interesting, stylish and cozy interiors.', says Noemie Deed, founder of Cosy Coco (opens in new tab).
'Integrating a Berber rug into your space will instantly give you a beautiful foundation of texture which will help pave the way for the "New Rustic" look.'
'Charming, rustic designs transform contemporary pads into cozy homesteads.'
And Lucy Ackroyd, head designer at Christy (opens in new tab) agrees. She says: 'A textured rug, either a deep pile sheepskin or a classic basket weave can work wonders.'
'This is especially when placed in a strategic spot where extra comfort is needed, such as where you walk in, by the fire, or your favorite reading spot.'
15. Drape fairy lights above your bed
Though a white bedroom idea can be cold and crisp, there are ways to warm it up.
If you have a cool-colored bedroom, it's time to add some coziness with fairy lights. Not just for Christmas, these little bulbs are bursting with a comforting glow.
Layer with bunting to celebrate the end of your busy day. Hurrah!
16. Play with pattern as part of a kitchen floor
'When designing your kitchen, why not choose a strongly patterned floor?' says Darren Watts, design director at Wren Kitchens (opens in new tab).
'These sorts of features add the "wow" factor to your kitchen, as well as an impact on how big the room feels.'
17. Opt for modular shelving where possible
'Firstly, make sure your shelving is deep and tall enough to store your belongings, but narrow enough that it doesn't compromise your precious square-footage.' says Peter Erlandsson, co-owner of string furniture (opens in new tab).
'Also, use a mix of open shelving and cabinet styles to create a display unit that is flexible enough to hide the things you don't want on show.'
18. Go maximalist with a wallpaper and curtain combo
Wonderfully easy to hang, and cheap as chips, wallpaper is a relatively quick way to transform your apartment. But to make it work harder, why not pair it with a contrasting window treatment idea?
In this heavily patterned scheme, brown, orange and mustard tones combine to create an ethnically-inspired reading space. Color therapy expert, Momtaz Begum-Hossain (opens in new tab) comments on this combination of colors. She says: 'The brown spectrum can feel too dark in an interior when used on its own, but when you combine a chocolate brown with orange and yellow you transform the energy into one that's warm, uplifting and encourages socializing.'
19. Switch up your soft furnishings
'Updating smaller accessories, such as cushions, is a simple way to refresh your home and inject personality into a room, without overhauling your interiors scheme.', explains David Harris, design director at Andrew Martin (opens in new tab).
'Adding vibrant cushions is a simple and inexpensive way to inject a bold hit of color into a neutral room.'
'Start with the soft base linen colors for your sofa, and then try mixing in the hotter pink cushions for added zing.'
'But, if you're more reserved in your approach, then opt for the soft powder blues and neutrals.'
Designer Elizabeth Ockford (opens in new tab) adds: 'When trying to create a cozy atmosphere the key is to accessorize the room with cushions and throws, soft lighting and even candles.'
'An artfully mismatched set of cushions gives the appearance of time having passed, rather than room being created all at once. It gives the eye things to softly rove across.'
20. Create a feature wall using wallpaper
'From whimsical woodland prints to graphic geometrics, wallpaper now comes in such a dazzling array of designs to fit your personal style.', says Nadia McCowan Hill, resident style advisor at Wayfair (opens in new tab).
'Think carefully about the mood you wish to create: Lovers of romantic styling might adore blousy blooms or delicate damask prints in soft and subtle shades.'
'If you prefer a more modern look, try optical geometrics which will give your home a more clean and contemporary edge.'
21. Consider multiple lighting options in your kitchen
'If your kitchen lacks natural lighting, then there are plenty of different lighting options to choose from to enhance your space.', says Darren Watts, design director at Wren Kitchens (opens in new tab).
'These include atmospheric feature lighting and integrated spotlights.'
22. Got lots of books? Consider a corner bookshelf
'If square footage is at a premium in your living room, opt for a corner bookcase', says McCowan Hill.
'These practical shelves maximize the vertical expanse and can be positioned in the corner of your room, so they don't encroach on valuable floor space.'
23. Use a classic dresser or china cabinet for storage
Love the look of custom storage but tight on budget? McCowan Hill shares her expert tip for small apartment ideas on a budget.
She says: 'Try placing a classic dresser or china cabinet along one wall of any open plan living room / dining space to help demarcate zones.'
'This narrow framed hero piece maximizes use of vertical space, but is slim in depth so it won't eat into the floor of a less-than-large living room area.'
24. Turn an awkward alcove into a home office space
'Even if you don't have the room for a designated home office, you can still create a productive work station if you plan your space effectively.', says McCowan Hill.
'Unused nooks such as an alcove can be transformed into a productive workspace with a compact desk and a foldable chair.'
How can I make my apartment look trendy?
'Deep navy tones and sapphire jewel hues are great for adding a glam touch, while ocean turquoises and teals are perfect for creating a serene scheme.', says McCowan Hill.
'Try pairing blue accents such as lamps, cushions and candles with neutral upholstery for a tranquil way to lift your look.'